Registrato a Verona tra il 2006 e il 2012.
Mixato all'Opal Studio di Verona da Fabio Serra e Logos.
Masterizzato da Fabio Serra.

Formazione:
Fabio Gaspari: Batteria, basso
Luca Zerman: Organo, mellotron, synth, voce
Claudio Antolini: Pianoforte, tastiere, synth
Massimo Maoli: Chitarre

Special guests:
Alessandro Perbellini: Batteria in "Alla fine dell'ultimo capitolo"
Simone Bistaffa: assolo di chitarra in "Venivo da un lungo sonno"
Simone Chiampan: batteria in "In principio"
Gianbattista Bodel: voce narrante in "Il rumore dell'aria"

Immagini di copertina e libretto: Fulvio Saiani.



Durata totale: 76 minuti e 02 secondi



"L'enigma della vita" rappresenta l'album della maturità, il felice risultato di dieci anni di creatività compositiva, attività live e vari cambi di line-up.

Nel disco, oltre a Luca Zerman alle tastiere (ora cantante principale della band), Fabio Gaspari al basso ( in quest'album suona anche la batteria dopo l'abbandono di Alessandro Perbellini nel 2004), e Massimo Maoli alle chitarre, suona il tastierista Claudio Antolini, che porta nel gruppo nuova linfa compositiva.

Le nuove composizioni oscillano fra le avvolgenti atmosfere del primo album e il tecnicismo di "Asrava". "N.A.S.", un lungo e complesso brano strumentale impreziosito dall'eccellente lavoro alle tastiere di Zerman e Antolini; "In principio", dove Maoli crea con la sua 12 corde elaborati e suggestivi arpeggi; "In quale luogo si fermò il mio tempo", un pezzo per solo pianoforte che riprende con uno stile malinconico e struggente la melodia principale di "N.A.S." ; la title-track, che, forse, meglio di altri brani, dimostra la grande personalità musicale raggiunta dalla band. Le tastiere, pur occupando un ruolo di primo piano nell'album, non sono mai invadenti né eccessive; il lavoro alle chitarre di Maoli è anch'esso sobrio e misurato, ben lontano da certi eccessi tipici di molti chitarristi rock; Gaspari crea con il basso e la batteria un efficace ed essenziale tappeto ritmico.

I testi sono lunghi ed articolati e si soffermano prevalentemente sul profondo mistero dell'esistenza umana.

Il disco si compone di undici brani per oltre sessanta minuti di musica originale.










---
Testi
L'enigma della vita
Il mio respiro nasce dall'acqua o da uno scontro fra molecole
da combinazioni atomiche casuali moltitudine di eventi elementari?
Quanto devo alla pigra natura, quanto alla mente matematica
quanto alla volontà, all'azione, quanto all'imprevedibile gioco?
L' enigma della vita mi sta dentro
e grandi pensieri mi sorprendono grandi come la sua mente ideatrice
come la forza che mi sfugge davanti
e che mi lascia incerto a immaginare...
Nacqui dalla polvere prendendo forma e dalla polvere presi forza e fui io a sollevarmi in volo a stento.
Per arrivare a camminare da solo creando anzi plasmando le idee fino a renderle grandi e bellissime, aprendo mille porte con un soffio, trasformando le capanne in dimore, facendone delle case forti e sicure imparai la lezione della roccia.
In principio...
Nascono e muoiono come creature astri, pianeti, esseri non pensanti
e nascono e muoiono gli uomini padroni ma non assoluti del creato.
La sapienza di una grande mano ha scolpito forme indescrivibili
tracciando disegni sopra i deserti fatti di colori che non esistono,
ha dato vita a spenti corsi d' acqua ed essi sono diventati grandi fiumi.
In principio era il nulla ed dal nulla siamo stati generati e generiamo
Quando nacqui ero solo un arbusto e vidi apparire ad una ad una
tutte le altre creature dell' universo dal primo al sesto giorno.
Pioggia in campagna
Sono una piuma vagante e qui mi poso
ad ascoltare ciò che mi dicono le foglie
ed eccomi nel tuo regno, signora di ferro,
sono grandi i campi, il grano maturo.
E ovunque tu vada troverai rottami di auto abbandonate
che stanno affondando lentamente nella palude silenziosa dei secoli
fino a diventare parte del sottobosco.
I loro vetri saranno rotti e fradici e l' erba vi crescerà dentro a ciuffi
e si potrebbe anche immaginare che abbiano visto tempi migliori.
Sotto qualche quercia sono certo ci sarà anche quella di mio padre coperta di foglie appena cadute e di pioggia fresca di primavera.
Dove saranno finite le coperte da stendere sull' erba per mangiare ? Forse qualcuno ha potuto salvarle dalla impercettibile furia del tempo ? Sono una piuma vagante e qui mi poso ad ascoltare ciò che dicono le foglie anche se sarò presto soffiata via.
In fuga
Ti ricordi i momenti della tempesta?
Noi confusi nella folla di uomini.
Il capitano alzò la mano per dire avanti e iniziò per noi la rincorsa alla libertà.
L'importante era correre e non fermarsi per non appendere la vita ad un filo
'Scappare', solo 'Fuggire', mi dicevi...
'Non alzare lo sguardo dalla neve'.
Completamente estranei
Da un angolo di marciapiede s' apre un piccolo cunicolo
è la porta della città nascosta, la porta della città nascosta.
E tu che ci vivi sopra, tu che ci cammini accanto
ogni giorno percorri il viale
il tuo sguardo è diritto i tuoi passi brevi e veloci,
non vedi che la tua rabbia la tua mano sfiora la terra,
il tuo occhio legge negli astri
ma noi per te siamo ancora completamente estranei.
Venivo da un lungo sonno
...venivo da un lungo sonno...
e a svegliarmi fu il rumore dell' aria e della sua azione contro le tende,
non era ancora giorno ed io in viaggio per non so dove...
Protetto da una coperta di lana la strada mi correva sotto rapida
e mi giungeva il suono di un colloquio
in una lingua che non era la mia...
Alla fine dell'ultimo capitolo
Dove andrai a dormire la sera
e dove andrai a posare il capo
quando arriverà la grande pioggia?
Di certo resterai a guardare per qualche momento del giorno
l' immagine delle figure d' uomini impresse sul muro di mattoni;
e ti aggirerai per la città vuota
faticando con i piedi fra i rottami
e non ti sarà facile muoverti bene fra i mucchi di macerie e gli sterpi. Vedrai però filtrare nella polvere i resti di una fiamma rimasta accesa; la userai per scaldarti e illuminare
la tua casa e la tua strada.
Lascia accesa quella fiamma vicino al muro e tienila viva per me
perché una delle figure che vedi fu la mia.
---
Video Promo (Playlist)
---
Making of...
Un disco non è solo musica... Ma anche immagini e visioni che sottolineano ogni singolo suono in esso contenuto.
Fulvio Saiani, in qualità di autore degli scatti, spiega copertina e immagini presenti nel libretto de L' enigma Della Vita, terzo album del Logos.
La Copertina:
Venivo da un lungo sonno:
In fuga:
---
Distribuzione
LogoS Store

Pickup Records (Bassano - IT) - www.pickuprecords.it
GT Music (Padova - IT) - www.gtmusic.it
Andromeda Relix - www.andromedarelix.com

inoltre, in Italia:
Masterpiece Distribution, BTF, Mellow Records

Mondo:
AMERICA: CdBaby (USA), Syn-phonic (USA), Laser's Edge (USA), Kinesis (USA), Wayside Music (USA), Melodisc (CA), Idea Musical (Mexico)
EUROPE: Caerllysi Music (UK), Cosmos Music (FR), Musea (FR), JustForKicks (DE), Beyondrock (NL), Oskar CD (PL), Mals (RU)
ASIA: Garden Shed (JP), Disk Union (JP)





Digital:





---
Recensioni
Garden Shed - LINK
Garden Shed, noto negozio di dischi specializzati in prog in Giappone, mostra nella home page il nostro nuovo CD "L'enigma della vita".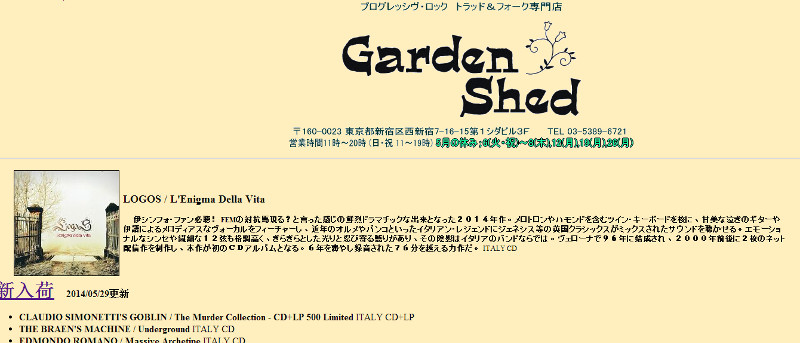 Un must per gli amanti del rock sinfonico italiano.
'L'Enigma Della Vita' (2014) è un album dei Logos: una composizione vivida e drammatica.
Nel disco sono presenti molte tastiere tipiche degli anni '70, con interventi di Mellotron e Hammond, chitarre evocative e belle linee vocali, molto melodiche e cantate in italiano.
La musica può essere definita come una miscela delle leggende italiane come Le Orme e i BMS, oltre ai classici del prog britannico.
I sintetizzatori sono suonati con trasporto ed emozione mentre la chitarra a 12 corde dà un taglio elegante alla musica. Questo contrasto è una delle caratteristiche della band italiana.

Logos è band di Verona, fondata nel 1996. Ha rilasciato in rete due uscite digitali, quindi questo album è praticamente il loro primo album CD a distribuzione internazionale.
Sei anni spesi per la produzione di questo album: un album molto potente della durata di oltre 76 minuti.
Todd @ ProgArchives.com - LINK
LogoS has been around for nearly 20 years, having released two interesting self-produced albums around 2000. They have returned in full force now in 2014, releasing a new album, "L'Enigma della Vita." The only remaining founding member is Luca Zerman, and over the intervening years he has assembled a band that have been playing live and composing together for a while, honing and shaping their pieces. Finally the end result is in, and it's a phenomenal accomplishment! As good as the first two are, they suffered somewhat from musical production and mature composition. This new album is head and shoulders above their first two albums, and the production is superb.

"L'Enigma della Vita" is on the spacey side of Rock Progressivo Italiano, creating lush atmospheres with two keyboardists (à la Banco) and a driving rhythm section. (A reference point might be Wish You Were Here era Pink Floyd seen through an RPI lens.) Soaring delicate guitars predominate as well, although they are often used to propel the pieces forward instead of the keys. Keys are generally present in the form of strings, organ, piano, mellotron, and solo synth leads, always tasteful and rich sounding. Vocals are sparse on the album, and when they appear they fit well in the context of the music.

The album gets better with each listen, and my favorite tracks are constantly changing. Current favorites include "In Fuga," with its stuttering melody lines and pulsating rhythm section. The soaring keys and guitars alternate solos, both playing over rhythm guitar and keyboard background. I especially love the little RPI piano riff.

Another is "In Principio." The beginning acoustic guitar over some gentle cascading keys gently escort the voice, as they continue their interplay. Then come the flutes, which marks the beginning of an excellent departure--the Hackett-like interlacing guitar and keyboard lines entertain for a bit, then give way to a driving rhythm with a nice electric piano solo, but still continuing their subtle contribution to the whole. A marvelous passage!

Near the end of the album we are treated to "Pioggia in Campagna," which is remarkable for opening with a military type march, possibly a reference to the campagna in the title. About a third of the way into the piece, we get a slightly angular RPI piano riff, over which there is some killer dirty Hammond soloing. Just great stuff!

I am thrilled that LogoS have been able to finally complete this album, many years in the making. It's been a long journey for them, and we've been waiting for a long time. But it's finally here, and I encourage you to grab a copy. Visit the band's website, which has (or shortly will have) links to the multiple vendors around the globe that will stock this wonderful gem, which is distributed by Andromeda Relix.

Five stars! (Gnosis 14/15)
Utnapishtim @ ProgArchives.com - LINK
In search of the truth' sailing through unsafe thoughts in search of the knowledge that since the beginning of times it seems to vanish once reached it. A precious album for both listeners and musicians. A must have album which offers a balanced way to express the depth concept of RPI through memorable true progressive passages and questions that accompany the man in his evolution path. This is what a 'reborn' band which has its roots in 1996 try to interpret trough its music, telling it to us through 'Logos' word comes from Greek which means to tell; from Latin it means speech intended as the original meaning of the word. After a rough existence made by many line changing in the band, dreams and goals (which had anyway brought them to the self-production of their two previous albums) the project is carried on by the tenacity of the original member Luca Zerman which has maintained alive Logos and Fabio Gasparri, joined later by Claudio Antolini and Massimo Maoli. From 2006 to 2012 their musical experience started to take shape and substance, despite two self-production actually not bad. 'L'Enigma Della Vita' so comes from the mature side of the band. It represents a passepartout for a different level of Prog. The care for musical details here is conscious and mature and the good ideas comes in succession thanks also to Claudio Antolini (piano, keyboards, synth) and Massimo Maoli (guitar) that have given new vital energy to the band identifying its RPI boundaries. The result is an album charged of a dramatic nature which wants to represent (naturally as artistic interpretation) the truth concealed, strength that push the man to find the knowledge.

The band seems to follow 'Le Orme' with which has a special connection not just musically (Logos started playing Le Orme's covers) but for a local belonging as well, actually both come from Veneto in north Italy, despite divided from less than 70 miles. Is possible to find a lot of elements belonging to RPI tradition like the texts which treat themes depth and apparently with no answer and the use of two keyboards (BMS); the first track and the last that make a frame to all the album. Maybe is possible to find a pinch of autobiography in the song 'Venivo Da Un Lungo Sonno' (Coming From A Long Sleep). It could be considered as a metaphor of the band's waiting before to give to us this album.

A lot of good Prog moments articulated through mellotron and synth, Crimsonian atmospheres and excellent piano parts characterize the entire album, giving to the listeners an experience of sound essentially intimate and passionate. Guitars and keyboards that chase each other manifesting the musician's experience. Their sound sometimes seems to be almost spacey due to some Gilmourian guitar part (as the solo in 'Venivo Da Un Lungo Sonno'); sometimes dark and gloomy. One of the best song is with no doubts 'N.A.S', the more prog you can find in an album of the genre, close to King Crimson but anyway imbued with Italian Prog tradition.

Their ability to create their own 'new' sound it's easy to recognise in the title track 'L'enigma Della Vita with very interesting prog passages. Another emblematic song for the band's sound (and the one that let me love this album!!) is 'In Principio' (In The Beginning) a short interpretation of the genesis. A spacey/dreamy intro start a beautiful acoustic guitar, but it's just the beginning because the piece changes identity and becomes a triumph of keyboards and synth remembering some Le Orme's atmosphere, here enriched by an electric guitar, to come back to the main theme of the song. Special!

'Completamente Estranei' (Completely Stranger) has some connection to 'Genesis 1977 Era', in my opinion with an eclectic aptitude due to the electric guitar that remember me Robert Fripp style. Other typical RPI element is included in the song 'In Quale Luogo Si Ferm' Il Mio Tempo (In Which Place Did My Time Stopped). A beautiful piano song which has a double role: harks back to the conclusion of the 5th song N.A.S, here in a romantic version; plays as intro for the beautiful 'Pioggia In Campagna' (Rain In The Countryside). Beautiful Prog moment worthy of note despite its shortness.

'Pioggia In Campagna' is the last 'played' song of the album, in my opinion very representative for the band's sound, which includes the harmony between keyboard and guitar. Impressive!

Ends the album 'Il Rumore Dell'aria' (The Air Noise) which as the wind rustling through the trees creates a dark suggestive atmospheres in a never known night of a man which seems asking to himself what the future has in store for him.

An album mature and still alive in RPI tradition despite many years far from the bands that created the genre. An album full of pleasant surprises at every new listening which don't want to emulate any Prog Giant but express an original sound belonging just to them and demand its place in the Prog sphere after a long period far from this goal. So nobody knows what is the enigma of life, or maybe yes' Surely today we can enjoy this renewed come back!

5 Stars ' Well done
Aussie-Byrd-Brother @ ProgArchives.com - LINK
2013 was a banner year for all things Italian prog related, an astounding mix of winning comeback works from established bands and dazzling works from newcomers filled with so much exciting potential and promise. It was already looking like 2014 would potentially measure up to the same quality, and then an album like this first disc in 14 years from RPI band Logos shows up to make you think that this year may be even better! Play the first few tracks of `L'Enigma della Vita', and lovers of all things Le Orme and the romantic, symphonic side of Italian prog will think they're in heaven. But large doses of Eloy/Sensation's Fix-like space-prog, sombre influences from the gloomy Swedish bands like Paatos and Anekdoten, classical grandiosity and subtle gothic flavours soon emerge to take you by surprise. There's so many beautiful contrasting moments of light and dark, bridging old vintage styles with modern influences effortlessly. A mix of lengthy instrumental passages with stirring vocal sections, with so much time and careful attention having gone into every detail of the album, there's over 77 minutes of some of the finest music modern progressive rock has to offer right here. After a fragile flowing space-music opening over synths and delayed droning electric guitar, drums and pumping bass gradually fade in through the clouds, all rapidly turning triumphant over the faintest of Mellotron choirs. Band leader Luca Zerman 's charismatic voice, full of dignified warmth, croons alongside some very tasteful slow-burning electric guitar soloing in the manner of Pink Floyd (instantly `Wish You Were Here' and even the clarity of `The Division Bell'-era came to mind). Twinkling electronics, washes of synth oceans and snappy drum-fills open punchy rocker `In Fuga' that oddly reminds of German band Eloy, but with some added classical RPI piano sophistication, and some nice call and response back and forth interplay between the guitars and keyboards sharing an up- tempo waltzing melody. There's a surprising gothic flavour for the heavy `Alla Fine...', overloaded with thick organ. It brings a lovely regal fanfare build, plenty of lurking chiming guitar and dark synth mystery over gently grooving bass that sneaks along the background and some sinister Mellotron intensity that would make Anekdoten jealous! Then we reach `N.A.S', a deep space nightmare that sounds like an unholy cross between Italian spacerockers Sensation's Fix and U.S instrumental proggers Carpe Nota. Powerful drum fury drive an up-tempo beat, maddening repetitive slab-like bass and spitting Mellotron venom with delirious synth freakouts and strangled electric guitar nooses all weave around an impossible to resist melody. With a superb build to as exciting a climax as possible, this is without a doubt the instrumental track of the year so far, simply incredible stuff, and the album would be worth it for this track alone.

The title track jumps around in tempo with gentle grooves, shimmering electronic programming and pleading vocals, but it's almost a mere diversion to what is to come next. `In Principio' opens with beautiful melancholic classical acoustic guitar that reminds of both classic era Genesis and the more recent Opeth albums, with some dark jazzy hypnotic electric piano that leads to a malevolent drum n' bass breakdown in the finale. Moody yet achingly beautiful prog doesn't come any better than this, and anyone who highly rates the classic Paatos debut `Timeloss' and bands like Landberk will worship this track. `Completamante...' is a foot-tapping organ/Moog/Mellotron spacey rest to come down on with restrained group harmonies and grooving bass that actually wouldn't have sounded out of place on the debut Unreal City album from last year. `In Quale Luogo...' is an exquisite classical piano solo that will bring you to tears. `Pioggia...' is a keyboard tour-de- force, fusing regimented drumming and classical grandness with a passionate vocal over whirring Moogs, fairy-tale Mellotron, lavish ghostly piano serenades and scratchy Hammond runs. There's a spiky danger to the electric guitar sound through this one, although the piece always remains triumphant. The album then concludes on an eerie narrated passage over doomy ambience.

Each additional listens reveals more and more jaw-dropping moments that remind you over and over why you love the Italian works so much. Sole founding member Luca Zerman clearly had a strong vision for this album, and the additional musicians now brought into the band have delivered the best results possible. To have the musical skill and confidence to successfully pull of a perfect mix of both vintage influences and modern styles is utterly inspiring, and those who want to experience everything they cherish about Italian progressive music now know one of the best bands that carries on that proud tradition. Without a doubt, the powerful `L'Enigma della Vita' is very likely the candidate for Italian album of the year so far, and a standout release for progressive rock in 2014 in general.

Five stars.
tszirmay @ ProgArchives.com - LINK
As so brilliantly expressed by my esteemed colleagues Todd and Aussie-Byrd-Brother, the Italian progressive scene has been spurting lately with fierce determination, Vesuvius and Etna exploding simultaneously with a lava flow of stunning 2013 releases and it is now clear that 2014 will be just as scorching. Recent arrivals Phoenix Again, Ego, Aurora Lunare, Nodo Gordiano and the delectable Fabio Zuffanti are simply eclipsed by this utter stunner! As both reviewers so clearly have stated, Logos' 'L'Enigma della Vita' is one for the ages, a scintillating example of modern RPI, caramelized with grandiose symphonic elements, a touch of space/psychedelia, massive hues of shadow and light, as well as all the characteristics that make RPI such a devout prog institution. Nearly 14 years in the making, the patience, the dedication and the savoir-faire are all there in vivid sound and art, with a picture perfect cover, sublime photography and general artwork. Needless to say, the crew led by maestro keyboardist Luca Zerman is tight as a screw, with second ivoryman Claudio Antolini adding that special Banco-like touch, guitarist Massimo Maoli spitting out a slew of rich riffs and glittering leads whilst the foundation of both bass and drums are held down solidly by Fabio Gaspari. The material is exemplary, highly layered and intensely emotional on a multitude of levels, a recording that will definitely stand the test of time. The atmospheric intro 'Antifona 'briefly sets the tone, a velvet curtain of sound slowly setting the stage aglow with ambient splendor. The dream show is about to begin, please take your seats, sit back comfortably and turn off your cell phones. The segue into 'Venivo da un Lungo Sonno' kicks off sprightly, a steady propulsive beat, armed with sea-gull crying guitar flourishes, churning organ and synthesizer swells liberated by the two-man keyboard team. This 9 minute + piece has all the ingredients described above with shifting moods between pastoral and explosive, strong rhythmic interplay and a keen sense of weaving something extraordinary. Some bright Zerman vocals adorn the dazzling melody, spiced by a spirited yet simple guitar phrasing from guest Simone Bistaffa , organ and mellotron blazing in the background, all very lyrical and highly symphonic. Yes, the Floyd influence remains vivid by structure, yet the axe solo is more personal in its conclusion.

The reverberating electric piano joins in with the mighty mellotron on 'In Fuga', as the frolicking organ and sizzling synths join the fray, in a baroque/medieval twist that vaults into a space groove (a la Eloy) , brief vocal in full expansion. The playing is resourceful, elegant and refined, all four so very perceptibly in synch, a delightful piece of RPI magic, delicately coated with that distinctive finesse we all adore.

The mood veers towards the stark and mordacious with the sombre 'Alla Fine dell'ultimo Capitolo', led by a burping bass from Gaspari and classic interval thumping from guest drummer Alessandro Perbellini , choppy guitars give a weighty atmosphere to the arrangement but most of all, a series of turn-on-a-dime instrumental wizardry on all solo instruments, painted with colored dissonance and a nasty attitude. A tortured synth solo remindful of a mini-tornado kills the deal, half way through. The voice only adds to the bass- grooved menace, my kind of adventurous mind music, as the thriving mellotron adds her voice to the finale. Wow!

As if to confirm and stamp the impression even further, the frenzied 'N.A.S.' shoots straight for the 'ballistic missile in space' style, a chop-fest for sure, so studiously correlated by Aussie-Byrd-Brother as an intermingling of slashing Carpe Nota power jamming and Italian psych masters Sensation's Fix penchant for interstellar sonic overdrive. I am in lust with such instrumental discourse, a fond mix of bizarre and comfortable, an audacious expression of cosmic guitars and enlightened synths, all ICBM-ed by a rabid and binary bass/drum propulsion unit. I stand and applaud!

The title track shifts into a more modern electro-prog hip beat, a concrete groove is laid down on which shimmering slivers of keys and shrivelling guitars are evenly spread out like some prog shag carpeting, the drums' studding nails keeping things tight as a drum. The mid-section recalls the course again, giving Maoli the road adherence he requires to speed his Ferrari-guitar over the macadam. Bombastic synths supply a monumental and grandiose apotheosis to it all. Vroom-vroom!

A highlight track without a doubt, the pic 11 minute 'In Principio' begins with flourishing piano motifs, a mournful classical guitar foundation and an impassioned voice, pleading for some understanding. Simple drums (Simone Chiampan) keep it all graceful and nebulous, a fragile adventure with a transcendent main melody that flutters into infinity , when suddenly it gets kicked into maximum acceleration with some trendy rhythm guitar shavings, aided and abetted by jazzy electric piano rumblings and crowned with a wicked 'search and destroy' guitar solo. Madonna mia! Or OMG as the most current phone app claims! Gurgling synths returns the thrill into more Floydian expanses, gently charting the final voyage.

Crystalline synthesizer introduces 'Completamente Estranei' allied with a booming bass, colossal drums and a wall of howling mellotron washes, constructing a delightful main chorus that is enriched by a zooming guitar riff. The theme seems familiar only because it is based on classic prog tendencies that have stood the test of time, Zerman adding another brief vocal that fits well with the mood. Parping synthesizers wave the flag.

Being a total sentimental fool for any piece that showcases piano, 'In Quale Luogo si Fermo'il Mio Tempo' qualifies as a melancholic addition to any compilation, a short and lovely etude that would make even Liszt or Chopin proud, elegant and celestial. Achingly dazzling.

Another clear highlight track is the cinematographic 'Pioggia in Campagna', an archetypical symphonic blowout that will combine sorcery and technique, a microcosmic universe of all those elements that make us such devoted fans. Dual keyboard assaults by both Antolini and Zerman, fueled by dynamic rhythmic foundations and some exquisite playing by guitarist Maoli are all massaged into one brilliant piece of work. Tons of details are immersed into the canvas, in respect to the Monet-like art that adorns the track lyrics, a classic RPI epic.

'Il Rumore dell'aria' proudly lowers the velvet drape on another magnificent performance, a truly world class release of the very highest standing. Sonics, raindrops, echoed narration, buona sera e grazie.

This is a massive opus, a thrilling classic and destined to place itself on the RPI mantel, alongside the other great role models from the land of the Azzuri. Italy rules again, proggers!

5 Life puzzles
Baby Blaue - LINK
"L'enigma della vita". Na endlich ein italienischer Albumtitel, den man auch ohne wirkliche Italienischkenntnisse sofort versteht! Wie bei dem Titel zu erwarten war beschäftigt sich der Bandleader Luca Zerman darauf mit der Erkenntnis, dass das Leben voller Geheimnisse steckt.

Die italienische Formation Logos gibt es seit 1996. Damals begannen sie als eine Coverband, die unter Anderem Titel von Le Orme, Banco de Mutuo Soccorso nachspielte. Nach dem ersten - einfach "Logos" genannten - Album von 1999, kamen bei Konzerten noch Coverversionen von Jethro Tull, King Crimson und Genesis hinzu, bis mit "Asrava" 2001 die zweite Scheibe erscheinen konnte.

Für das dritte, "L'enigma della vita" genannte Werk brauchten Logos dreizehn Jahre. Die Umbesetzungen und Probleme geeignete Auftrittsmöglichkeiten zu finden verzögerten seine Fertigstellung. Man hört es dem Album auch an, dass die Stücke eher nicht alle in einem Zug entstanden sind, selbst wenn alle Einfälle von dem Keyboarder und Sänger Luca Zerman stammen.

Wie es die oben genannten wichtigsten Inspirationen schon nahelegen, kommt die Musik von Logos ohne Experimente aus und richtet sich nach dem klassischen Progressive Rock der 70er Jahre. Die Leichtigkeit des Neoprog trifft in Stücken wie "Venivo da un lungo sonno" auf keyboardorientierten symphonisch orientierten Retroprog, der die Namen wie Camel, Pink Floyd und Eloy in Erinnerung ruft, wobei das Schaffen von David Gilmour an dem Gitarristen nicht ganz spurlos vorbeigegangen ist. Das leider sehr kurze Intro zu "In fuga" besticht durch hübsche Arrangements für die Tasteninstrumente. Insgesamt überzeugt das instrumentale Stück durch die Balance zwischen Gitarre und Keyboards sowie durch die Verwendung der Klassik- und Folk-Elemente (früher mal wohl Jethro Tull-Stücke nachgespielt?).

Falls man wen mit Mellotronklängen ködern kann: diese gibt es auf "L'enigma della vita" wiederholt zu hören. Die Akkordfolgen des instrumentalen "n.a.s" führen den Hörer zunächst aus der Neoprog-Ecke hin zu eher an King Crimson orientierten Einfällen, die im weiteren Verlauf des Stückes dann wieder zurück zum symphonischen Retroprog in der Art von Genesis führen. So bleibt das Stück ein Streifzug durch die bunte Geschichte des Prog,

Aber selbst die traditionsbewussten Logos wissen noch zu überraschen: "In Principio" entwickelt sich nach einem braven Gesangsteil zu einem psychedelisch-temperamentvollen Elektronik-Rock-Trip.

Luca Zerman scheint zu ahnen, dass er nicht zu den charismatischsten Sängern gehört (oder er hatte keine Lust noch weitere Jahre mit der Suche nach einem Sänger zu verbringen), deshalb wohl bleiben gekonnt komponierte und kompetent dargebotene Retroprog-Instrumentals, wie "Complemente estranei" ein wichtiger Bestandsteil von "L'enigma della vita".

"L'enigma della vita" bietet insgesamt eine solide Prog-Leistung für die traditionsbewussten Hörer, die zudem noch mit langen Instrumentalteilen, gerade mal akzeptablen Gesangsleistung und weitgehend fehlenden Überraschungen, oder Highlights gut leben können.
Musical News - LINK
La storia dei Logos affonda le radici nel 1996, inizialmente come cover band che omaggia i giganti del progressivo italiano, in particolare BMS e Le Orme.

Solo tre anni più tardi, come quintetto, il gruppo elabora un proprio repertorio che viene proposto nell'esordio "Logos", replicato quattro anni più tardi con "Àsraya" che, nonostante sia ancora un'autoproduzione riceve un'ottima accoglienza di critica e pubblico.

A questo punto la band vive una serie di ripartenze e fermate, a causa di numerosi cambi di formazione, ma i leader storici Luca Zerman (tastiere e voce solista) e Fabio Gaspari (chitarra, basso e voce solista) e il tastierista Claudio Antolini, continuano a crederci e così, dal 2010 i Logos ritrovano una certa stabilità, tanto da suonare di spalla al Biglietto per l'Inferno e ai The Watch.

Il ritrovato entusiasmo permette al gruppo, con il batterista originale Alessandro Perbellini, di concludere l'atteso terzo album, in lavoro dal 2006. Ed ecco oggi tra le nostre mani "L'enigma della vita", un album fluido, che in undici canzoni, omaggia ed allo stesso tempo sviluppa il suono classico del prog, con romanticismo ed una certa poetica, con l'aiuto di testi intelligenti e privi di banalità.

Canzoni come "Venivo da un lungo sonno", "Alla fine dell'ultimo capitolo", "In principio" e "Il rumore dell'aria" non sono semplici riletture di un genere noto, ma canzoni che vivono di luce propria. La critica mondiale si è innamorata dei Logos. Adesso tocca a voi. Il Cd è distribuito da GT Music.
L'Arena - Quotidionano di Verona del 21/06/2014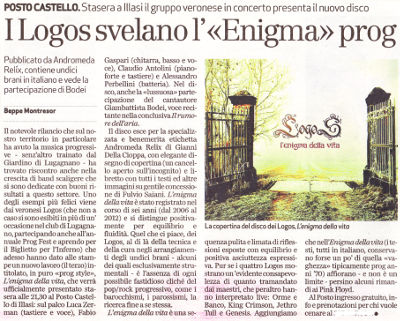 I Logos svelano l'Enigma prog
Il notevole rilancio che sul nostro territorio in particolare ha avuto la musica progressive - senz'altro trainato dal Giardino di Lugagnano - ha trovato riscontro anche nella crescita delle band scaligere che si sono dedicate con buoni riscontri a questo settore. Uno degli esempi più felici viene dai veronesi Logos (che non a caso si sono esibiti in più di una occasione nel club di Lugagnano, partecipando anche all'annuale Prog Fest e aprendo per il Biglietto per l'Inferno) che adesso hanno dato alle stampe un nuovo lavoro (il terzo) intitolato, in puro stile prog, L'enigma della Vita, che verrà ufficialmente presentato stasera alle 21,30 al Posto Castello di Illasi: sul palco Luca Zerman (tastiere e voce), Fabio Gaspari (chitarra, basso e voce), Claudio Antolini (pianoforte e tastiere) e Alessandro Perbellini (batteria). Nel disco anche la lussuosa partecipazione del cantautore Giambattista Bodei, voce recitante nella conclusiva "Il rumore dell'aria".

Il disco esce per la specializzata e benemerita etichetta Andromeda Relix di Gianni Della Cioppa, con elegante disegno di copertina (un cancello aperto sull'incognito) e libretto con tutti i testi ed altre immagini su gentile concessione di Fulvio Saiani. L'Enigma della Vita è stato registrato nel corso di sei anni (dal 2006 al 2012) e si distinge positivamente per equilibrio e fluidità.

Quel che ci piace dei LogoS, al di là della cura negli arrangiamenti degli undici brani - alcuni esclusivamente strumentali - è l'assenza di ogni possibile fastidioso cliché pop/rock progressivo, come i barocchismi, i parossismi, la ricerca fine a se stessa.

L'enigma della vita è una sequenza pulita e limata di riflessioni esposte con equilibrio e positiva asciuttezza espressiva. Pur se i quattro Logos mostrano un'evidente consapevolezza di quanto tramandato dai maestri, che per altro hanno interpretato live: Orme e Banco, King Crimson, Jethro Tull e Genesis. Aggiungiamo che nell'Enigma della vita (i testi, tutti in italiano, conservano forse un po' di quella vaghezza tipicamente prog anni '70) affiorano - e non è un limite - persino alcuni rimandi ai Pink Floyd.

kakereco.com - LINK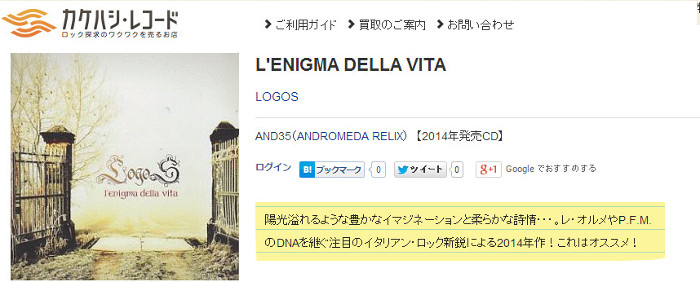 Monthly Prog Notes - LINK

Arlequins - LINK
Addirittura 13 anni sono trascorsi dalla precedente uscita discografica ("Asrava", il titolo di quello "storico" album) dei LogoS. Stabilizzata la line-up attorno a Luca Zerman (voce, organo, Mellotron, synth), Fabio Gaspari (batteria e basso), Claudio Antolini (pianoforte e synth), Massimo Maoli (chitarre - che ha nel frattempo lasciato il gruppo) e a Alessandro Perbellini (batteria - in qualità di ospite sull'album, ma recentemente rientrato a pieno titolo nella band), "L'enigma della vita" è il titolo scelto, per il rientro in grande stile, dai ragazzi veronesi.

Undici le composizioni per oltre 75 minuti di musica, mentre una splendida copertina, un bel booklet con i testi dell'album ed evocative fotografie, completano il tutto. Si tratta di un concept ed "Antifona", con le sue atmosfere sospese, ci introduce nel mistero della vita secondo i LogoS. Il viaggio si concluderà dieci brani più tardi con "Il rumore dell'aria". Difficile descrivere tutti i pezzi perché l'omogeneità è la caratteristica più evidente di "L'enigma della vita" e malgrado sia innegabile un prevalere delle tastiere in molti brani, la chitarra elettrica di Maoli non sta certo a guardare e si ritaglia ampi e sontuosi spazi ("Venivo da un lungo sonno" ed "In fuga" sono per citarne un paio) a mezza via tra Gilmour e Latimer.

Talvolta le sonorità vintage prevalgono grazie all'abbondante uso di Hammond da parte di Zerman (ancora "In fuga") o ai duetti chitarra/organo ("Alla fine dell'ultimo capitolo"). Non mancano momenti acustici importanti (l'intro alla dodici corde di "In principio", lo struggente pianoforte di "In quale luogo si ferma il mio tempo"). La voce di Zerman, seppur a volte un po' "timida", è ben calata nel contesto del concept e mai soverchia le notevoli digressioni strumentali di tutto il gruppo. Ed è proprio uno strumentale, "N.a.s.", il vertice compositivo dell'album: un'impazzita scintilla creativa, ricca di magnetismo anni '70 (Le Orme, i Genesis...) che sintetizza in modo ammirevole le notevoli doti del gruppo. Il quale, oltre che ripetersi e migliorarsi, ha ora il DOVERE di non farci aspettare altri dieci e più anni per avere del nuovo materiale da pubblicare.

Uno degli album più coinvolgenti di questo 2014. Ma (per gli scettici è doveroso) aggiungo che siamo solo a Giugno, dai...
ProgressiveRockBR.com - LINK
Personally, I consider that, the Italian Progressive Rock Music is one of the finest around the world, mainly in its musical composition, from the quality of the musicians and their ability to used classical arrangements and work out their ideas in such a perfectionism and with the ability to fuse the emotional with the intellectual, blending many rhythm changes, with pure classical music influences, Rock Progressivo, Hard Rock, Jazz, Barock, Folk and other regional rhythms. In this musical context, I can name a hundred Italian Progressive Rock bands, who knows how to fuse the emotional together the intellectual, in perfect compositions. One of these bands that we can mention is the LogoS. With a considerably delayed, compared to the release of last two albuns, the LogoS band and their fantastic music, reappears again in the world scene of the Progressive Rock. After a long period in silence, a total of thirteen years, the group finally released, in early of this year 2014, their third album, titled as "L'enigma Della Vita", which I have the pleasure to consider as one more masterpiece from the Progressive Rock's Italian scenery, playing a symphonic music, in the same line and with the same energy of the best Italian prog bands from all times. Formed by four musicians, the LogoS band may be ranked into the Symphonic Progressive Rock style, all compositions are totally dominated by wonderful atmospheric keyboards, by Luca Zerman - Organ, Mellotron, Synth and Claudio Antolini - Piano, Keyboards, Synth, both together creating a variety of incredible arrangements, the guitars come with wonderful solos in the background, where the bass guitar follows the rhythm with the drums. "L'enigma Della Vita" contains eleven tracks, 76 minutes of a pure musical emotion, no doubt all tracks have an excellent musical performance, but, of all there are some that are perfect, of course they are my favorites: "Venivo Da Un Lungo Sonno", "In Fuga", "Alla Fine Dell'ultimo Capitolo", "L'enigma Della Vita", "In Principio", "Completamente Estranei" and "Pioggia In Campagna" it´s the apex of the album. Do not think twice to listen to this wonderful album and learn more about this fantastic band, you can bet that you will not regret.
Progressive Area - LINK
LOGOS existe depuis 1996 et ils ont comme beaucoup commencé par jouer des reprises. Ils sont à ma connaissance le premier groupe à jouer des covers de LE ORME, avant de s'atteler à leurs propres compositions. Ils ont enregistré leurs deux premiers albums en 1999 puis 2001. Treize ans sans nouvelles dus en partie à plusieurs changements de personnel et à une désaffection du public pour les rares concerts que LOGOS a donné à l'époque. Et comme dans bien des cas, le petit groupe transalpin du début du siècle vient d'effectuer un énorme saut qualitatif entre l'album de 2001 et cette "Enigma della Vita". En premier lieu, les voici avec un son majestueux digne des meilleures productions du genre et ce n'est pas le moindre de leur mérite. Ecoutez le second titre "Venivo da un Lungo Sonno" et vous comprendrez la guitare qui décape ou pleure, c'est selon. Elle dégage un incontestable lyrisme très italien et les synthés s'envolent vers des cieux immémoriaux (c'est vrai qu'il y a deux préposés aux touches dans la formation). La suite est du même tonneau musical. "In Fuga", comme son nom l'indique, a tout d'une fugue qui est une écriture contrapuntique, sujet à l'imitation (les historiens du progressif auront reconnu bien évidemment le titre d'un vieux LE ORME). "Alla Fine....." décoiffe sévère, ne croyez pas pour autant que j'en veuille aux calvitiens, mais franchement ça pulse. On n'est pas dans un progressif bucolique... Le plus barré "N.a.s.", instrumental de plus de sept minutes, côtoie l'un des maîtres, le Roi Cramoisi est à l'honneur, porté par une rythmique d'enfer. Un franc souvenir du duo WETTON/BRUFORD du temps de leur splendeur (à visionner une bonne reprise de "In the Court of the Crimson King" sur youtube). J'apprécie nettement moins le titre éponyme, la faute a un chant pas toujours assuré, dommageable car il est en plein milieu du disque. "In Principio", le morceau le plus long de l'oeuvre, est introduit doucement par la guitare acoustique et le mellotron avant de s'engouffrer dans un labyrinthe de grande qualité (orgue hammond, moog, piano, re-moog toute la panoplie y passe). La seconde partie est un crescendo à tendance électronico-industrielle plutôt surprenant, avec une grosse présence de la six cordes électrique. Le titre huit revient à une dimension progressive plus classique où l'on sent l'influence des maîtres étalons italiens des années soixante-dix, PFM et BANCO DEL MUTUO SOCCORSO principalement, une mini suite tout à fait superbe avec des échanges de claviers paroxystiques, du grand art mélodique. Après le petit intermède pianistique du neuvième titre, retour à une nouvelle fresque progressive d'envergure avec "Pioggia in Campagna". Plus de dix minutes d'un festival claviéristique de très haute qualité musicale nanti d'un final échevelé, le sommet du disque sans aucun doute malgré une absente de marque, la pluie... Bah oui, c'était dans le titre du morceau ! L'album se termine comme il a commencé par un court titre qui narre la fin de l'histoire, ah oui j'avais oublié de le préciser mais c'est un concept album !!! LOGOS, encore une bien belle révélation en provenance de la botte pour les nombreux amoureux des combos de pointe des vertes années de la musique progressive, les plus grands en première ligne, ce n'est pas un hasard si LOGOS reprend sur scène "Impressioni di Settembre" et "La Porta Chiusa".
Distorsioni.net - LINK
Verona e Mestre distano geograficamente poco più di cento chilometri ma nel nostro caso sono separate nel tempo da quasi sei lustri, ovvero quanto necessita per collegare una band emergente scaligera, i LogoS, ad una formazione di origine lagunare decisamente più conosciuta, Le Orme. E' infatti la primavera del 1996 quando un trio di giovani veronesi inizia a muovere i primi passi in ambito musicale omaggiando Tagliapietra e soci attraverso le rivisitazioni di loro successi quali "Gioco di bimba" e "Cemento armato",pagine fondamentali del prog italiano. Queste apprezzate performance live e la composizione di brani inediti concorrono a far si che nell'arco di poco tempo i LogoS riescono nell'impresa di auto produrre due progetti (l'omonimo "LogoS" del 1998, registrato in presa diretta ed il successivo "Asrava" del 2001), raccogliendo buoni consensi. La mancanza di stabilità nella band, dovuta a ripetuti cambi di line-up, porta ad un periodo artistico costellato di alti e bassi. Adesso a distanza di tredici anni, i fondatori storici si ritrovano e ci consegnano "L'enigma della vita", convincente e maturo episodio che attraverso i suoi suoni e le sue liriche ci conduce negli abissi misteriosi dell'esistenza umana.

Dopo l'intro strumentale di Antifona, il concept si inoltra nel proprio cammino guidato dalla struggente chitarra di Massimo Maoli in Venivo da un lungo sonno. Il synth in bella evidenza di In fuga riporta alla memoria atmosfere tanto care ai nostalgici del seventies, anticipando le articolate liriche di Alla fine dell'ultimo capitolo immerse nel drumming di Alessandro Perbellini. Nei sette minuti di N.A.S emerge tutta la tecnica dei musicisti, impegnati in divagazioni di stampo crimsoniane ed in cui tiene banco il basso di Fabiologos Gaspari. La title track irrompe a metà strada ed apre una seconda parte del disco in cui la dimensione sospesa di In principio, dominata dall'hammond e dalla voce sognante di Luca Zerman prende il sopravvento. La vena ritmica prog riesplode in Completamente estranei prima del delicato intermezzo pianistico eseguito da Claudio Antolini in In quale luogo si fermò il mio tempo. La Pioggia in campagna risulta il degno epilogo di questo avvincente racconto, chiuso dalla strumentale Il rumore dell'aria. L'intrigante cancello di copertina non aspetta altro di essere varcato; solo così sarà possibile risolvere l'enigma.
DrömmarenAdrian @ ProgArchives.com - LINK
Now I am back to write about an Italian modern prog rock band. They contacted me some weeks ago and I was very honoured when they wanted me to hear and review their record. The band's name is "Logos" and they seem to have been around for a while. They come from Verona and started their band 1996 and made two albums in the beginning of their carreer: "Logos"(1999) and "Ásrava"(2001). Their third studio album came now this year 2014 and the cover picture is powerful and should look especially progressive on a vinyl cover. "L'Enigma della Vita" from 2014 feautures Fabio Gaspari(guitars, bass and vocals), Luca Zerman(keyboards, Hammond, lead vocals), Claudio Antolini(piano, keyboards) and Alessandro Perbelini(drums). The record has a lot of music in different styles and the music could from place to place be compared with other great bands without losing their the unique feeling the band has.

The best is to listen to everything in a row, the pieces follow each other. "Antifona" is a calm introduction(7/10) which leeds into "Venivo da un lungo sonno" where you both could here sililarities with Pink Floyd and Genesis. The main melodical theme is a Genesisesque lovely creation and later comes Pink Floyd guitar and calm fine song(9/10). Then comes the third song "In fuga" which I like even more: it is fast and vivid and has a strong heavy symphonic melody(10/10). "Alle fine dell'ultimo capitolo" contains a lot of great epic stuff which is pleasant to hear(8/10) and "N.a.a" do I like even more: it starts undure and experimenting and evolves to a heavy symphonic tune(10/10). "L'Enigma della vita" is also a fantastic song, also the albums title track(9/10) and the playful "In principio" is not bad at all(7/10). "The rocky "Completamente estranei"(7/10) and "In quale lugo si fermoò il mio tempo"(7/10) where we hear wonderful piano come then and "Pioggia in campagna" concludes the album in a beautiful way wher we also hear the splendor of the voice(9/10). The closer "Il rumoro dell'aria" doesn't appeal to me in the same way(5/10).

I do like what I heard on this record, those times I listened to it and the musical world the band has painted is lovely to be in, and now I am sure I would return to "Logos" and also their earlier works of course. This record has a lot of those ingredients that a record need and I am very content in giving it a high rating. Four strong stars and a record I definitely think you should try!
Nightfly @ ProgArchives.com - LINK
Despite having formed in 1996 and releasing their first album in 1999, L'Enigma Della Vita is only the third album from Italian's Logos (their second came out in 2001). This may explain why, in spite of my love of Italian prog, they passed me by and hadn't heard them until recently. Better late than never though and on the strength of this album I'm really glad to have discovered them at last. L'Enigma Della Vita is a highly accomplished piece of work - great musicianship for starters. Clearly a band who have spent years learning and perfecting their craft. The loss of guitarist Massimo Maoli and replacing him with second keyboard player Claudio Antolini alongside band leader/keyboards/vocalist Luca Zerman gives the band a lush symphonic sound. It is too simple to define Logos as a symphonic prog band however. Despite their RPI credentials Logos are on the modern edge of the genre and atmospheric psych touches sit alongside neo (I was even reminded of IQ here and there) too and with an up to date production placing it firmly in the current century.

Before you think that Logos may be sitting on the lighter side of RPI though, at this point I want to mention the powerful and inventive guitar work of Fabio Gaspari. Previously he'd been responsible for bass (which he still doubles up on) and acoustic guitar. His electric work while always tasteful adds a powerful edge in contrast to the many haunting and melodic passages. Drummer Alessandro Perbelini's unfussy style is spot on, aiding Gaspari in laying the foundations with a solid rhythm section though not lacking subtlety when required.

The eleven compositions are inventive, taking surprising turns here and there as they expertly weave new and old prog elements but one thing that ties it all together and raises the bar is the bands ear for strong melodies, something that sets it well above some of the disappointing (mentioning no names) new prog I've come across recently.

L'Enigma Della Vita should go down well with anyone looking for a modern equivalent of Le Orme played with more balls and is the best RPI album I've heard in quite a while. Certainly the best this year and I'd rate it highly against any prog album in any sub-genre I've heard this year also. Highly recommended.
Clair et Obscur - LINK
Ayant démarré sa carrière en 1996 comme cover band de Le Orme, LogoS est à la tête, à ce jour, d'un capital de trois albums. Après un premier opus éponyme en 1999 puis le prometteur "Asrava" en 2001, le groupe frappe aujourd'hui un grand coup avec "L'Enigma Delle Vita". Suite à de très nombreux changements de line-up au fil des années, le combo se compose aujourd'hui de Luca Zerman (claviers), Claudio Antolini (claviers), Massimo Maoli (guitare) et Fabio Gaspari (batterie) et est renforcé par un bassiste et un violoniste invités. Autant l'annoncer d'emblée : "L'Enigma Delle Vita" est un disque efficace et bougrement convaincant. Ses onze pièces majoritairement instrumentales se situent dans la partie la plus inspirée du rock progressif italien, celle qui se laisse aller à des élans symphoniques raffinés. Au fil des morceaux, on songe donc à PFM ("Venivo Da Un Lungo Sonno" et son violon aux bien séduisantes arabesques), à Le Orme (le très beau "In Fuga", aux synthétiseurs majestueux) mais aussi au meilleur Eloy (le final du définitivement incontournable "Venivo Da Un Lungo Sonno", aux parties de six-cordes magistrales). Plus étonnant, la formation évoque également, sur un titre comme "N.A.S", le mariage du rock dépressif des suédois d'Anekdoten avec le psychédélisme barré de Sensation's Fix. La force du groupe, outre sa solidité et son sens mélodique très affuté, vient de la qualité de ses mélodies, nullement convenues et souvent fort belles (la bouleversante pièce au piano classique "In Quale Luogo Si Fermo' Il Mio Tempo" ou les labyrinthiques "In Principio" et "Pioggia In Campagna", digne des fastes du Banco de "Come In Un'ultima Cena"). Voilà donc une production agréable et de qualité que les amateurs du genre apprécieront sans grande réserve.
Tarcisio Moura @ ProgArchives.com - LINK
First class symphonic prog rock from Italy. I was asked to provide a review for this CD and I was quite pleased with what I heard. I really didn´t know about them and it seems that their first two albums they had at the beginning of the new millennium saw just limited release for I had not heard of any in all my years around here at the PA site. Anyway, L´enigma Della Vita was a very strong work from a very good band. Clearly they are rooted in the tradition of those 70´s giants from and out of Italy. And still they have enough modern influences in their music to not confound them with another retro band. As one has to expect, their musicianship is superb and the the state of art production also helps their surprisingly strong songwriting skills. There is over 75 minutes of music, but none of the tracks is of lower quality than the other. In fact, my only gripe with this CD is the fact that they did not exactly mixed their several musical tendencies into a coherent whole. You know, a case of being too versatile for their own good maybe. You can hear just about everything here: from melodic neo prog traits complete with Gilmour-like solos of Venivo da un lungo sonno to a more avant guard instrumental loaded with frippertonic guitar (N.a.s.). From the classical piano solo of Pioggia in campagna to the acoustic pastoral intro of Il rumore dell'aria. And so it goes. After repeated spins I still get the feeling is that I´m listening to several good bands playing on the same CD. However, this same feeling practically disappears on the vocal parts, where Luca Zerman´s voice gives the group a more distinctive sound. Every time he opens his mouth we are given the impression of hearing something unique. Familiar, ok, but still unique..

Don´t get me wrong: L´enigma Della Vita is an excellent CD done by an excellent band. But it is also clear they can go much further when they will balance all their influences into a more personal style. With their brilliant technique, tasteful arrangements and songwriting capabilities I´m sure it´s be only a matter of time before they will have their very own, trademark signature. I´m looking forward to hear their next release.

Rating: four strong stars. If you like Italian prog rock, this is a must have. If you love modern symphonic prog rock, you should at least give this CD a chance.
Henri Strik @ Background Magazine - LINK
Whilst browsing the Internet, I stumbled upon an album made by the Italian act Logos. Their album L'Enigma Della Vita grabbed me by the throat from the moment I first heard the music. Strangely enough, the band was totally unknown to me. Strange, when you do know I'm a lover of Rock Progressivo Italiano, as many of you would like to label this kind of progressive rock style. Well, I soon found out they originate from Verona, and started out as a kind of cover band in 1996. Like many other musicians in their country, they copied the music of bands like Le Orme and Banco De Mutuo Soccorso. In 1999 they released their eponymous album, which was followed by Asrava two years later. This album is their third release and, surprisingly, was released thirteen years after their second.

It appeared line-up changes and problems to find suitable opportunities to perform delayed it's completion. Well, I guess it didn't harm anyone, because what Fabio Gaspari (drums, bass), Luca Zerman (organ, Mellotron, synthesizers, vocals), Claudio Antolini (keyboards), Maoli Massimo (guitars) and their special guests delivered on this, third, album is simply outstanding. The years of waiting to get everything sorted out the right way were certainly well spent, because all eleven tracks are of a very high level and most of all ,very enjoyable. With two keyboard players in the band you might expect a very keyboard-orientated album and in a way this is true, because throughout the entire album you can hear very charming, lush keyboard arrangements, with lots of room for synthesizer solos and Mellotron and organ parts. However, the guitar parts never stand in the shadow of said instruments. Every now and then, a fantastic electric guitar solo can be heard, or wonderful chords are played on the acoustic guitars. As many of the other acts who can be labelled as Rock Progressivo Italiano, Logos has a retro sound and is a band that finds it's inspiration in the Italian progressive rock bands of the seventies. Their musical heroes, without a doubt, are the aforementioned Le Orme and Banco De Mutuo Soccorso. Of course, Premiata Forneria Marconi belongs to their musical heroes as well. Those band, in their turn, take their influences from British bands which ruled in the seventies. I'm referring to bands like Yes, King Crimson and Genesis. This certainly is the case with Logos too. Besides the retro sound of the seventies bands, I also heard influences taken from classical music (piano parts) and Italian traditional music (acoustic guitar parts); sounds that suit the band very well. It certainly helps make sure they have a kind of identity of their own, most of all when they mix it all together into amazing compositions, and there are more than enough of these on this release. Therefore, you could say Logos created a vey professional sounding album with L'Enigma Della Vita!

Their music, based on the classic progressive rock of the 70s will, without a doubt, be loved by many progheads. Most of all by those who enjoy albums made by the aforementioned bands, and who enjoy a good balance between guitar and keyboards, as well as the use of classical and folk elements. It seems the band's two previously released albums Logos and Asrava, will be reissued very soon. If the music on those releases turns out to be as good as on L'Enigma Della Vita, I can only say:'bring it on!', because I can never get enough of the kind of amazing progressive rock I've heard on this release!

**** Henri Strik (edited by Esther Ladiges)
Luigi Cattaneo @ ProgressivamenteBlog - LINK
Giungono al terzo album dopo dodici anni di assenza i veronesi Logos, band nata nel lontano 1996 come cover band dei grandi classici del progressive e conosciuta dagli appassionati per due interessanti lavori (Logos del 1999 e Àsrava del 2001). Sono ancora della partita due membri fondatori come Luca Zerman (tastiere e voce) e Massimo Maoli (chitarra) a cui si affiancano per questo come back Fabio Gaspari (batteria e basso) e Claudio Antolini (tastiere). La band aveva già dato segnali di ripresa qualche anno fa aprendo i live di Biglietto per l'inferno.Folk e The Watch e il nuovo L'enigma della Vita, registrato tra il 2006 e il 2012, è segno tangibile di come il gruppo abbia ancora tanto da dire. Particolari novità in termini di suono non sono presenti e l'album si riallaccia alla grande tradizione sinfonica di Banco del Mutuo Soccorso, Le Orme ma anche Castello di Atlante e Consorzio Acqua Potabile, il tutto suonato e interpretato con pathos e vigore. Antifona è il classico intro strumentale apripista che ci conduce alla validissima Venivo da un lungo sonno, traccia evocativa con attacchi di mellotron e un bel gioco di squadra tra Maoli e lo special guest Simone Bistaffa, un interplay tra chitarristi dotati di sensibilità e tecnica. Grande interesse suscitano le parti ritmiche di Gaspari, la buona prova di Zerman alla voce e un testo curato e affascinante, componente quest'ultima che ritroviamo un po' in tutto l'album a dire il vero. In Fuga è quanto di più vintage prog si possa desiderare. Notevoli cambi di tempo, tastiere a profusione, melodia finissima, tocchi psichedelici che completano il quadro. Alla fine dell'ultimo capitolo, pur toccando i quasi 10 minuti di durata, risulta fresca e scorrevole, con la piacevole apparizione di Alessandro Perbellini alla batteria e un lavoro d'equipe raffinato e suadente. Qualche suggestione crimsoniana è ascoltabile nella strumentale e notevole N.A.S., prima della title track sospinta da qualche reminiscenza hard prog. In Principio lascia aperti momenti di riflessione attraverso spunti melodici di grande impatto, complice anche Simone Chiampan alla batteria, mentre Completamente estranei fonde Genesis e Yes con frangenti solidi e viscerali. In quale luogo si fermo il mio tempo introduce al pianoforte Pioggia in campagna, malinconica song molto settantiana. Gianbattista Bodei è la voce narrante che chiude l'album con Il rumore dell'aria e noi non possiamo fare altro che celebrare il ritorno dei Logos e attendere qualche nuova uscita live del complesso, per tastare dal vivo un disco che può diventare un piccolo classico del progressive italiano odierno. (Luigi Cattaneo)
Christoph Lintermans @ The Prog Circle - LINK
Wanneer een album op basis van twaalf beoordelingen een 4.94 (op 5) behaalt op Progarchives, de internetdatabank voor progressieve muziek, dan weet je dat je iets speciaals in handen hebt. Zelfs een algemeen erkend meesterwerk als Yes' Close to the Edge van Yes scoort 'slechts' een 4.65, ofschoon het gemiddelde van meer dan drieduizend ratings. Om maar te zeggen dat 'L'enigma della Vita', de comebackplaat van het Italiaanse LogoS, absoluut niet in je kast mag ontbreken.

Maar is dit wel een comeback? Oké, de vorige schijf 'Ásrava' dateert al van 2001, maar aan deze derde worp is men bezig geweest sinds 2006. Vergeet bovendien niet de vele moeilijkheden en personeelswissels waar LogoS mee geworsteld heeft. Maar kijk, miserie loont: 'L'Enigma' is een plaat waar elke RPI-band een moord voor zou begaan.

Typischer Rock Progressivo Italiano dan dit vind je nauwelijks. Dubbele keyboards in de traditie van het legendarische Banco, een gesofistikeerde en lyrische stijl in klassieke seventiestraditie, ruim vijfenzeventig minuten vintage prog die zich als een somptueus banket aanbiedt. De mediterrane melodieën brengen je in vervoering zoals een opera van Verdi of Puccini. Niet verwonderlijk dat Italië ook nu zo'n rijk muziekleven kent.

Daarom laat je het album ook van start gaan met Antifona. In de Gregoriaanse gezangen en de Italiaanse renaissance werden verzen gezongen als prelude of slot van een psalm. De helft van zo'n antifoon werd om en om gezongen, zodat elke stem een tegenstem kreeg. LogoS trekt deze variatie instrumentaal door in Venivo da un Lungo Sonno, waarin we echo's horen van Pink Floyds Shine On You Crazy Diamond, Eloy en Genesis. Massimo Maoli laat horen wat voor een goede leerling van David Gilmour hij is, zonder te vervallen in epigonisme.

In Fuga laat vooral de twee toetsenisten Luca Zerman en Claudio Antolini schitteren in een gepassioneerde melodievoering die alleen Italianen kunnen verzinnen. Piano, synths, orgel,Moog, alle registers worden hier opengetrokken. De warme, organische sound is bovendien het perfecte vehikel voor Zermans sonore zanglijnen.

Wanneer je dan meer van hetzelfde verwacht, gaat het album alle richtingen uit: van de dramatiek van Alla Fine dell'ultimo Capitolo en de Crimsoniaanse nachtmerrie N.a.s. via de psychedelische ondertonen in het titelnummer en het semi-akoestische In Principio tot de bizarre klimaatwisselingen in Completamente Estranei en de marsritmes in Pioggia in Campagna. Niettemin getuigt alles van een stijlvaste cohesie en blijft de superieure kwaliteit gehandhaafd tot het slotakkoord. Acht jaar deed LogoS hierover, maar het parcours werd foutloos gereden.
Dragon Jazz - LINK
Non, le rock progressif symphonique italien ne se limite pas aux années 70. Le genre a survécu à travers les décennies avec plus ou moins de bonheur tandis que de nouveaux groupes talentueux ont émergé en produisant épisodiquement des albums d'une grande qualité: The Wood Of Tales de Malibran (1990), Il Passo Del Soldato de Nuova Era (1995), In Ogni Luogo de Finisterre (1999), Il Grande Labirinto (2003) et LuxAde (2006) de La Maschera Di Cera, Vacuum de The Watch (2004), Discesa Agl'inferi D'un Giovane Amante de Il Bacio Della Medusa (2008), et Il Tempio Delle Clessidre (2010) pour n'en citer que quelques uns. Logos, qui s'est formé à Vérone en 1996, s'inscrit clairement dans la ligne du prog italien classique et ne souhaitait d'ailleurs au départ qu'interpréter la musique de Le Orme. Après deux autoproductions mineures enregistrées au tournant du nouveau millénaire et alors qu'on le croyait dissout une bonne fois pour toutes, voici que treize années plus tard, sous la houlette de son unique membre fondateur le chanteur et guitariste Luca Zerman, le groupe ressurgit avec ce disque intitulé L'Enigma Della Vita. Et le moins qu'on puisse écrire est qu'entre-temps, Logos a fait quelques progrès.

Antifona, premier titre de l'album, installe une ambiance spatiale avec des claviers éthérés à la Pink Floyd avant de se fondre dans le suivant, Venivo Da Un Lungo Sonno, qui marque l'entrée en scène de la rythmique. Le quartet comprend deux claviéristes qui, au lieu de se marcher sur les pieds, se complètent avec leurs différents instruments (piano, orgue, synthés, mellotron…) pour enrichir les textures fluides et vaporeuses d'une musique qui fait indéniablement voyager. Il faut attendre plus de six minutes pour que le chant (en Italien) fasse son apparition, c'est dire que Logos prend son temps. Au milieu du morceau, Fabio Gaspari se lance dans un splendide solo de guitare à la Andy Latimer qui déroulera ses fastes jusqu'à la dernière mesure. In Fuga, qui vient ensuite, démontre que le groupe a eu le temps de peaufiner avec soin ses arrangements et ses mélodies tant la musique coule avec grâce et facilité. Beaux soli d'orgue et de guitare emmêlés sur ce titre envoûtant.

Le reste de l'album réserve de belles surprises comme la plongée gothique sur Alla Fine Dell'ultimo Capitolo dont l'orchestration renvoie aux films fantastiques italiens; l'instrumental N.A.S. et ses synthés cauchemardesques; le piano électrique qui groove sur In Principio en évoquant Caravan et l'école de Canterbury; le piano acoustique en interlude sur le nostalgique In Quale Luogo Si Fermo'il Mio Tempo; ou encore l'arrangement exaltant de Completamente Estranei qui en met plein les oreilles dans un finale ambitieux. Décidément, ceux qui apprécient Camel, Eloy ou encore RPWL devraient succomber facilement au charme de cette musique.

Certes, tout n'est pas encore parfait: certains passages sont trop longs; d'autres trop répétitifs; dans certains morceaux, la voix de Zerman manque un peu d'assurance; et sur le titre éponyme, la caisse claire claque sur un rythme binaire sans imagination. Mais sur les 76 minutes que dure ce disque, c'est en fin de compte peu de chose par rapport à ce qu'on reçoit. Car la pugnacité a payé: tout en affichant une indéniable identité, Logos joue aujourd'hui à un niveau similaire à celui de ses modèles des 70's et il peut désormais s'enorgueillir d'appartenir au petit cercle fermé des meilleurs groupes de rock progressiste italien.
Mellotron Storm @ ProgArchives.com - LINK
4.5/5 stars. LOGOS were formed back in 1996 and subsequently released two studio albums in 1999 and 2001. Both have ratings that are average at best but something happened over the last 13 years as they have released an absolute stunner in 2014. All four guys from the previous album are back although the drummer is listed as a guest playing on the fourth track only. Fabio the bass player on the previous album still plays bass but is the main drummer now. The new guy is Claudio and he's the second keyboardist adding piano and synths to Luca's organ, mellotron and synths. Luca is also the vocalist and he really reminds me of Bryan Ferry at times. Anyway this is a keyboard driven album that has incredible depth to it. It's one of those albums that i've played a ton yet I feel i'm still getting to know it. Things get started with "Antifona" a short instrumental full of atmosphere which is dark and spacey. "Venivo Da Un Lungo Sonno" continues with the same theme but drums and bass are added and the mood becomes more upbeat and brighter. A Symphonic beauty. It settles some before 4 minutes and the vocals join in. Simply gorgeous with those Ferry-like vocals. Relaxed guitar comes in around 5 1/2 minutes then it becomes more passionate. Excellent! "In Fuga" is an instrumental with lots of synths and keyboards. An uplifting Symphonic piece. "Alla Fine Dell'ultimo Capitolo" has a steady beat with intricate guitar as the vocals join in around 2 minutes. Some powerful guitar 3 minutes in then pulsating organ runs as the guitar plays over top. Synths to the fore 5 minutes in and vocals follow. It becomes repetitive late and I love it with those spacey synths. Mellotron follows then the vocals return once again. "N.A.S." has such a great sound to it around 1 1/2 minutes in as it becomes more powerful with synths playing over top. Then it's the guitar that becomes prominant until the synths return late.

"L'enigma Della Vita" has a nice beat to it with spacey keys. Vocals a minute in. I like when the tempo picks up before 4 minutes. A powerful tune. "In Principio" has a beautiful intro as reserved vocals join in before a minute. Awesome sound after 3 minutes, so much atmosphere. Vocals return later then check it out before 6 1/2 minutes as a more urgent rhythm kicks in. The guitar before 8 minutes is fantastic. "Completamente Estranei" has spacey synths and a beat to start. Vocals after 3 minutes then back to the instrumental work the rest of the way. "In Quale Luogo Si Fermo'il Mio Tempo" is a short piece with piano only. "Ploggia In Campagna" opens with the sounds of synths and drums as it builds. Vocals before 2 minutes as it calms right down. A nice instrumental section comes in at 3 minutes including mellotron and intricate guitar. It picks up before 4 minutes. Great sound! Love the organ here. Vocals 7 minutes in with a powerful soundscape. It settles back a minute later with organ then builds. "Il Rumore Dell'aria" is the haunting closer with the sounds of water dripping, an eerie atmosphere and spoken words.

A must for RPI fans, no doubt about that. This is adventerous Symphonic music with lots of depth.
Donato Zoppo @ MovimentiProg - LINK
Gli anni '90 e la decade successiva non sono stati ancora storicizzati ma chi vorrà prendersi la briga di rileggere il new prog dell'ultimo ventennio potrà utilizzare i Logos come cartina di tornasole, come vicenda rappresentativa di speranze, tensioni e risultati di tanti musicisti neoprogressive. Attiva dal 1996, la band veronese nasce come cover band delle Orme - lo schieramento a terzetto favorisce l'omaggio ai celebri conterranei - e si evolve come tribute band a tutto tondo, ferma restando la voglia di intraprendere un proprio percorso compositivo. Quest'ultimo vede la luce con l'esordio "Logos" (1999) e l'immediato seguito "Asrava" (2001), entrambi autoprodotti.

"L'enigma della vita" ha tutto il sapore di un nuovo debutto: un decennio di silenzio, una nuova formazione (con l'ingresso determinante del secondo tastierista Claudio Antolini), un rinnovato concept e un contratto con Andromeda Relix proiettano i Logos verso la parte più interessante della propria storia. Anche in questo nuovo Lp i quattro manifestano il loro amore - orgoglioso, pieno di impeto e slanci - verso il prog storico anni '70: la provenienza dall'ambiente tribute in qualche modo persiste nell'adesione al canone e nella presenza riconoscibile di precisi punti di riferimento. Come sempre accade nei debutti o nei comeback, il materiale è abbondante e finisce col disorientare: i Logos puntano a una scrittura omogenea, tale da far scorrere piacevolmente gli oltre 70 minuti di musica.

Il new prog dei Logos non teme il disinteresse o il distacco dell'ascoltatore, anzi: vive della stessa passione di chi lo ascolta imperterrito e per questo non si risparmia in lunghezza, in atmosfere, temi e sviluppi tipici dell'epoca d'oro. Lunghi brani come "Venivo da un lungo sonno", "Alla fine dell'ultimo capitolo" e "In principio", nel loro inseguire il sogno della fusione tra Genesis, Orme, Banco e Yes, tracciano un solco che sarà assai gradito dagli ascoltatori più nostalgici. Ciò non toglie che "L'enigma della vita" non sia un lavoro piacevole: i Logos riescono meglio quando c'è equilibrio tra la componente rock/floydiana e quella più ariosa e sinfonica (vedi "In fuga"), la voce di Luca Zerman è il punto debole (come accade per la stragrande maggioranza dei gruppi simili) ma brillanti episodi strumentali come "N.A.S." sono un biglietto da visita di cui andare fieri.

Un ritorno più che dignitoso che farà gola a tutti i cultori del rock sinfonico all'italiana: nonostante i difetti, "L'enigma della vita" è un buon disco che cresce ascolto dopo ascolto e rivela una band preparata e ambiziosa.
Didier GONZALEZ @ Highlands Magazine (number 67 - Juillet 2014) - LINK
LOGOS est un nouveau projet en provenance de Vérone, avec comme directeur musical le claviériste Luca ZERMAN (orgue, Mellotron, synthétiseur, voix), auteur et compositeur. L'album L'ENIGMA DELLA VITA a été enregistré sur une longue période de 6 ans entre 2006 et 2012. La formation est complétée par Claudio ANTOLINI, piano, claviers, synthétiseurs ; Maoli MASSIMO, guitare ; Fabio GASPARI, basse et batterie. Après Antifona simple ouverture climatique, on entre dans le vif du sujet avec Venivo Da Un Lungo Sonno, longue composition aux envolées symphoniques grand teint, bénéficiant de la guitare aux accents floydiens de Maoli MASSIMO (qui a visiblement écouté David GILMOUR). On se régale de magnifiques effluves de claviers vintage, orgue Hammond et Mellotron en tête, conférant une assise symphonique des plus séduisantes.

In Fuga poursuit sur un rythme plus enlevé, des plus festifs, avec des claviers toujours à l'avant-scène dessinant un ensemble de thèmes des plus mélodieux portés par un orgue Hammond tourbillonnant et une guitare électrique tumultueuse. La section rythmique assure un tempo enlevé, tandis que les synthétiseurs prennent bientôt le relais avant une courte séquence de piano conclusive.

Alla Fine Dell'Ultimo Capitolo poursuit dans une veine un peu différente, avec des claviers moins dominants, l'intervention du chant et le retour de la guitare aux avant-postes. Ce nouvel équilibre instrumental amène davantage de piquant à la musique de LOGOS même si l'orgue Hammond et les synthétiseurs font un retour en force en seconde partie.

N.a.s se révèle le morceau le plus dynamique et le plus rock depuis le début de l'album : après un fulgurant roulement de batterie, la rythmique se met en marche sur un tempo rapide, tandis que la guitare distille quelques attaques mordantes sur un ensemble claviéristique se situant plus en toile de fond. Davantage de stridences sur ce titre légèrement plus corrosif.

L'Enigma Della Vita remet les claviers au premier plan instrumental, mais le chant de Luca ZERMAN montre ici ses limites, ses parties instrumentales se montrant nettement plus convaincantes. Guitare et orgue Hammond se partagent la deuxième séquence instrumentale, cependant cette composition manque de souffle, on espère un véritable démarrage qui se fait… attendre. Dommage, on espérait mieux pour le morceau titre en partie sauvé par une envolée de guitare convenable mais manquant de souffle. Il faudra l'embardée de synthétiseur finale pour enfin relever le niveau.

In Principio débute sur un doux accompagnement de guitare acoustique précédant le chant posé mais sans envergure de Luca ZERMAN. Cependant la mélodie s'avère agréable bien que convenue et on apprécie les discrètes volutes d'orgue en arrière-plan ainsi que la flûte. La séquence instrumentale au Fender Rhodes agrémente avec bonheur la suite du morceau qui prend un second souffle. Le retour d'une séquence chantée sur le final précède une nouvelle envolée basse/orgue des plus trépidantes relançant l'intérêt de cette composition à tiroirs, tandis qu'un solo de guitare incendiaire vient s'y greffer. Le meilleur morceau de l'album à ce stade de l'écoute !

Completamente Estranei débute par une séquence de claviers rhapsodiques bientôt rejoints par la section rythmique et la guitare électrique, tout en riffs. Le morceau, à caractère évolutif poursuit sa course, mélangeant guitare sinueuse et claviers effervescents. Une belle séquence de Minimoog intervient, entrecoupée par un solo de guitare, relançant la dynamique de la composition.

In Quale Luogo Si Ferme Il Mio Tempo, délicatement interprété de bout en bout au piano acoustique est une vraie splendeur !

Pioggia In Campagna débute sur un tempo martelé, assez martial, introduisant un très beau synthétiseur aux sonorités luxuriantes. La guitare acoustique précède le chant de Luca ZERMAN, bientôt relayé par une belle envolée de guitare électrique, très fluide et éthérée, rehaussée par un filet de synthétiseurs, avant qu'un break de piano et une accélération rythmique ne relance l'intérêt du morceau. L'orgue Hammond fuse, caracole, resplendit, illuminant ce titre d'expressives et chaudes sonorités.

Voici un titre captivant, à égalité avec l'excellent In Principio. La séquence suivante au synthétiseur est prenante et son alternance avec la guitare aux accents légèrement incisifs, une réussite. Jusqu'au final, on assiste à un festival d'orgue Hammond aux accents du grand PROCOL HARUM en alternance avec un synthétiseur à la belle coloration vintage. Excellent !

Il Rumore Dell'Aria constitue la conclusion de ce recueil. Introduit par des claviers suscitant une ambiance mystérieuse, ce titre voit l'intervention d'un récitant tandis que les claviers évoquent une ambiance de plus en plus fantomatique et sépulcrale. Une conclusion déroutante mais de bonne tenue pour un album très créatif, avec ses moments de plénitude et aussi quelques temps faibles. Appréciation globalement positive surtout si vous êtes amateurs de formations de la vieille école. Un CD méritant indéniablement l'écoute. 15/20
Pierluigi Daglio @ Tempi Duri - LINK
Terzo album in studio per i Logos, gruppo progressive italiano formatosi a Verona nel 1996 come cover band di Le Orme. Dopo nuovi arrivi nella formazione, la band incomincia a comporre brani inediti e originali fino alla pubblicazione nel 1999 del loro album di debutto, autoprodotto, intitolato appunto "Logos".
Tornano successivamente sulla scena discografica nel 2001 con un secondo album, ancora una volta autoprodotto, dal titolo "Asrava". Dopo ulteriori cambi di line-up e parecchi anni di silenzio, ricompaiono con un nuovo lavoro dal titolo "L'enigma della vita" che si preannuncia interessante. La musica dei Logos si ispira sia ai gruppi storici del progressive italiano anni settanta come Le Orme, Il Banco del Mutuo Soccorso e la PFM sia ai giganti del progressive mondiale come i Genesis e i King Crimson. Il disco si apre con un breve preludio "Antifona" con cui comincia il viaggio dentro L'enigma della vita. Atmosfere rarefatte e suoni particolari ci prendono per mano.
Senza soluzione di continuità  comincia il secondo brano "Venivo da un lungo sonno" che continua la sequenza musicale dell'introduzione, ma con l'aggiunta della batteria che conferisce ritmo al brano. Si aggiungono tastiere e una nuova melodia, che a tratti ricorda lo stile di alcuni brani dei Kraftwerk. Cambio di ritmo, il brano si velocizza, sempre guidato dal gradevole assolo di chitarra, poi si fa più lento e arrivano anche degli arpeggi. Inizia la parte cantata.
Gradevole assolo di basso che si contrappunta alla chitarra elettrica e poi ancora lungo assolo di chitarra elettrica su tappeto di tastiere. Il viaggio continua. Segue "In fuga" dall'inizio intrigante, dominato dalle tastiere ben supportate dal basso. Parte cantata e ottime variazioni musicali, il ritmo aumenta e la canzone corre verso la fine tra assoli di tastiere e di chitarra. Al momento il brano migliore dell'album. Il disco procede con Alla fine dell'ultimo capitolodal ritmo deciso e dalle interessanti parti vocali. Assoli di tastiere e cambi di ritmo tracciano la linea progressive della canzone che assume diverse identità  musicali.
Carino il finale in crescendo con atmosfera epica. N.a.s.parte in maniera molto potente e ritmata col basso in evidenza a dialogare con le tastiere e la chitarra. Un brano quasi dissonante in alcune parti, dominato dal sintetizzatore e dalla chitarra elettrica che eseguono assoli su una base geometrica di basso e batteria. L'enigma della vita parte in crescendo con il basso in bella evidenza. A differenza degli altri brani del disco è molto cantata. In principio parte come brano acustico lento e delicato, ben cantato e coinvolgente. Segue un lungo passaggio a vuoto con arpeggi di chitarra acustica, basso e organo.
La musica è molto bella e ispirata. Stupende variazioni sul tema portante in stile Steve Hackett. Perfetto il cambio perentorio di espressione e di ritmo ai due terzi della canzone. Arriva una chitarra elettrica distorta e pià dura su un crescendo di parte ritmica che rende il finale inquieto, fino a un ulteriore cambio di direzione che ci accompagna al brano successivo. Assolutamente la traccia migliore dell'intero disco. Davvero una bella sorpresa.
Completamente estranei è nuovamente una canzone lunga di oltre sette minuti. Impianto potente in crescendo con caratteristiche sinfoniche, consolida la linea intrapresa con il brano precedente. Qualche sentore dei mitici Goblin appare di tanto in tanto nella melodia così come nella linea del basso. In quale luogo si fermò il mio tempo è una traccia più breve delle altre, caratterizzata dal pianoforte che esegue una melodia lenta, struggente e malinconica che ci traghetta verso Pioggia in campagna di oltre dieci minuti che parte in maniera epica e sinfonica con un crescendo di percussioni e di tastiere per poi virare improvvisamente verso un cantato malinconico, supportato da arpeggi di chitarra classica. Passaggio a vuoto, cambio di ritmo. Un pianoforte ossessivo prende la scena, intramezzato da un riff di chitarra elettrica e poi arriva un assolo di organo Hammond. Molto interessante.
Il disco si conclude con Il rumore dell'aria, un brano narrato su un sottofondo di pioggia e tastiere dalle caratteristiche evocative e oniriche. Un disco ambizioso e ben costruito di oltre settanta minuti che va sentito a lungo. Ottime le composizioni musicali, in alcuni casi dalla durata eccessiva. Non sempre i brani migliorano se allungati senza decisi cambi di ritmo e di variazioni musicali che ne giustifichino l'estensione. Le atmosfere sono a volte rarefatte e a volte ben determinate. Gli strumenti amalgamati in un insieme quasi sempre coeso e armonico.
In principio è un piccolo capolavoro. Parte iniziale dell'album ottima, un lieve calo di intensità dopo i primi tre brani, parte centrale di eccezionale bellezza e finale ancora di alto livello. I brani migliori del disco sono In fuga per la sua struttura compositiva, In principio per le sue variazioni e il suo impianto musicale in perfetto stile progressive, Completamente estranei per la sua traccia melodica e i suoi tappeti di basso e infine Pioggia in campagna per la sua configurazione epica e i suoi assoli di tastiere. Davvero un'ottima prova per i Logos che se avessero rinunciato a qualche allungamento eccessivo di alcuni brani, centellinandone la linea, avrebbero confezionato un album perfetto. Una produzione già  matura dal punto di vista musicale e compositivo da ascoltare e da gustare con calma e attenzione.
César Inca Mendoza Loyola - LINK
Hoy presentamos al grupo italiano LOGOS, formado en 1996 como banda tributo a LE ORME mientras iba aprendiendo a armar composiciones propias dentro de la tradición prog-sinfónica. Con dos discos grabados entre fines del milenio pasado e inicios del presente, LOGOS procuró hacerse de un sitio concreto dentro de la escena progresiva contemporánea, y ahora nos viene con su nuevo trabajo "L'Enigma Della Vita", el cual ya ha sido apreciado en varias páginas web como su mejor disco hasta la fecha. El disco en cuestión fue publicado por el sello Andromeda relix en mayo pasado. Los músicos fundadores de la banda son el teclista Luca Zerman, el baterista Alessandro Perbellini y el guitarrista-bajista Fabio Gaspari, siendo así que actualmente conformada como cuarteto con la inclusión de otro teclista llamado Claudio Antolini. Los dos primeros discos también fueron grabados con la alineación de cuarteto, pero con un guitarrista en vez de otro teclista: parece que LOGOS se siente más firme en el asentamiento de su visión musical cuando hay dobles teclados a bordo, y justamente se siente su gran relevancia a la hora de manejar y sopesar varias de las ideas melódicas que se suceden a lo largo del repertorio de "L'Enigma Della Vita". Revisemos dicho repertorio con más detalle.

El preludio del disco es 'Antifona', durando poco más de 2 minutos: sus climas flotantes y expectantes abren la puerta a 'Venivo Da Un Lungo Sonno', un sólido y generosamente expandido ejercicio de sinfonismo moderno en clave de 7/8. Los nexos estilísticos con los paradigmas de CAMEL y ELOY, así como con el neo de los 90s en adelante (MANGALA VALLIS, H20, TRAUMHAUS), son bastante evidentes, y en el caso de LOGOS, ellos saben darle una ingeniosa revitalización al asunto. Los últimos solos de guitarra ostentan una laxitud a lo DAVE GILMOUR, y de hecho el arreglo de las capas de los sintetizadores ayuda a intensificar las afinidades Floydianas en curso. La dupla de 'In Fuga' y 'Alla Fine Dell'Ultimo Capitolo' llega para incrementar las dosis de energía expresiva y musicalidad: el primero de estos temas ostenta una sana complejidad en las armazones rítmicas empleadas para la ocasión, así como intrincados desarrollos temáticos; por su parte, el segundo exhibe un vigor llamativo que nunca decae a través de sus 9 minutos y pico de duración. Vale destacar específicamente en 'Alla Fine Dell'Ultimo Capitolo' lo bien que se aprovecha la densa magia del mellotrón en el desarrollo del intermedio instrumental. 'N.a.s.' es un instrumental poderoso, dueño de un radiante dinamismo en el que la maquinaria sónica del grupo se luce con florituras comedidas, siempre al servicio de los motivos centrales y del espíritu general de la pieza, bastante extrovertido, típicamente signado por la sofisticación característica del género progresivo. Sin duda, se trata de un clímax decisivo del disco. El sexto tema del álbum es justamente el que le da título, explorando un medio tiempo con un manejo sobrio de cadencias propias del rock duro bajo un envoltorio casi cósmico: sin duda que se puede ver aquí la influencia del PORCUPINE TREE de los últimos álbumes, aunque sin dejar atrás del todo las afinidades con MANGALA VALLIS y H20. Las capas y bases de los sintetizadores portan el suficiente carácter como para establecer un adecuado complemento a los riffs guitarreros.

'In Principio' es la pieza más extensa del álbum durando 11 ½ minutos. Su sección inicial nos toma de sorpresa – de una manera agradable – al proyectarse hacia contemplativos ambientes pastorales bajo la guía de la guitarra acústica y los flotantes ornamentos de los teclados. La cosa realmente parece Genesiana en la primera mitad, incluso estableciendo nexos con el modelo de revival que propone la banda compatriota THE WATCH. En la segunda mitad, el talante de la canción vira notoriamente hacia un dinamismo psicodélico donde los efectos electrónicos se combinan fluidamente con el vigor rockero explícitamente diseñado para la ocasión – algo así como lo que esperaríamos de LABIRINTO DI SPECCHI y GRAN TURISMO VELOCE. 'Completamente Estranei' mantiene ambientes y grooves propios del neo-progresivo, explotando cabalmente el gancho de los motivos melódicos en torno a los cuales gira la canción. 'In Quale Luogo Si Fermó Il Mio Tempo' es una bella sonata de piano que prepara el terreno para el segundo tema más largo del disco, 'Pioggia In Campagna': esta canción brinda una síntesis cohesiva de la magnificencia de 'Alla Fine Dell'Ultimo Capitolo' y el dinamismo ostentoso de 'N.a.s.', calzando con total eficacia las atmósferas esenciales de la vieja tradición 70era (LE ORME, PFM) dentro del esquema de trabajo obviamente moderno donde se mueven estos músicos. La claridad magistral de los desarrollos de los sucesivos motivos operan como la cima última idónea para el álbum, aunque todavía falta 'Il Rumore Dell'Aria', el breve epílogo que repite los climas cósmicos del prólogo mientras suena una recitación ceremoniosa.

Musicalidad preciosista de una muy cuidadosa factura donde la energía expresiva y el refinamiento van de la mano a cada momento: esto es lo que encontramos en "L'Enigma Della Vita", enésimo testimonio de la prestancia magnífica que la nutrida y prolífica escena italiana ostenta hasta el día de hoy. LOGOS es uno de muchos grupos que garantizan la buena salud del rock artístico europeo - los 13 años de distancia entre el disco anterior y el nuevo han rendido buenos frutos.


BrufordFreak @ ProgArchives.com - LINK
Italian prog rockers LogoS have come up with a polished, well-produced album of mature prog compositions. The Lamb Lies Down on Broadway/Trick of The Tail-era GENESIS sounds and loud and clear engineering make this, to my ears, more akin to the Neo-Prog vein than RPI. The drums, keys, recording techniques and song structures feel so much like GENESIS 1975. 1. "Antifona" (2:03) (9/10) sets the mood for the album with dark, ominous synths and incidentals before a volume pedal-controlled guitar lays down some nice play. The song then bleeds into song

2. "Venivo da un lung sonno" (9:09). The addition of bass and drum rhythm section to the opening song's mood gives this a sound and feel like the foundation of "The Grand Parade of Lifeless Packaging" only with the sometimes lead guitar of David Gilmour. At 3:30 the song goes through a nice little shift with arpeggiated electric guitar notes. At 4:15 the entrance of the vocals of Luca Zerman brings to mind the voices of Ira Davies of ICEHOUSE, BRIAN FERRY, and even a little of THE DOORS' Jim Morrison. At 5:30 it returns to its original instrumental format. It is a very nice, steady and engaging, mostly instrumental song. Nice guitar play and band support throughout. (9/10)

3. "In fuga" (5:41) is a pleasant if straightforward and repetitive instrumental with keys and guitars trading solos throughout. (7/10)

4. "Alla fine dell'ultimo capitol" (9:20) fades in just like a classic Lamb Lies Down on Broadway song--heavy in mellotron and volume controlled guitar. Once the intro has passed and the song enters into its lyric-supporting section it loses a bit of its edge and becomes somewhat "by the numbers" prog. The organ and guitar spurt beginning at 3:28 are "Watcher in The Skies" like for a second before devolving into support for a fairly straightforward blues way- pedal guitar solo. The rather slow straight-time base shifts but continues in a kind of plodding way until 6:32 when a slight shift allows the bass walking and guitar picking to weave and shine a bit. Nothing very compacted or exciting, though, even when the mellotron moves to the front and does a kind of ANEKDOTEN solo. The final minute is a rather simple synth supported vocal outro. Nothing too earth-shattering here. (8/10)

5. "N.A.S." (7:45) opens with a bouncy almost disco (bass line) rhythm foundation with some 'heavy' electric guitar power chords. At 1:28 the song slows down, settling into an industrial KC Red-like rhythmic foundation while an ARP-like synth solo slides around over the top. At 3:30 two guitars--one a FRIPP-like sustained, the other a light pizzicato jazz plucked--take over the leads. The Fripp-like guitar puts together an interesting, dissonant solo that takes us up to the five minute mark. Such PHIL COLLINS-like ("Supper's Ready/Fly on a Windshield") drumming! At 7:25 the song bursts into a mellotron crescendo of sound as the ARP-synth finishes its long solo. Odd song! (8/10)

6. "L'enigma della vita" (7:24) opens a bit like PHIDEAUX's "Thank You for The Evil" with a low bass line and hard-hitting spacious drum line. The vocals throughout this song sound very much like those of GREG LAKE. A tempo change at 3:40 brings it back into GENESIS/PHIL COLLINS territory. At 6:00 the song almost becomes a disco-fied 70s RPI song--but it quickly switches back to Phideaux/Genesis territory till its end. (8/10)

7. "In principio" (11:27) begins like a classic acoustic GENESIS/RENAISSANCE song with fast paced electronic keyboard arpeggios which then give way to 12-string guitar and synths supporting a male vocal. This vocal is strong--in the truest Italian sense. Nice bass line and steady drum line enter around 2:45 and 3:18, respectively. The shift at 3:45 to jazzy electronic piano keyboard is at first a bit odd but it works! At 8:00 we finally get the start of some action: electric guitar solo (à la TD's "Coldwater Canyon" by Edgar Froese) and interesting drum play. My favorite song on the album. (9/10)

8. "Completamente estranei" (7:06) begins almost like a slowed down version of the song "The Lamb Lies Down on Broadway" before heavier drums and guitar strums give it a kind of THE WHO/LOVERBOY power rock feel. At 2:35 a confident electric guitar defines an interesting melody. Another rather limp vocal ensues to take over for a little while until a dramatic shift occurs at 4:12. Faster, more driven, almost URIAH HEEP-like, until the ARP synth renders a nondescript melody which it then pursues over the heavy rhythm section to the songs end. (7/10)

9. "In quale luogo si fermò il mio tempo" (2:32) is a nice, almost classical, piano solo. It could almost be a composition by CHOPIN, SATIE or some Russian pianist! (9/10)

10. "Pioggia in campagna" (10:28) opens with another GENESIS-like fadein (à la "The Knife"), building beneath several layers of keyboard sounds. At 1:31 there is a key shift, then all stops at 1:46 to make way for a very latin/RPI-like vocal with acoustic Spanish guitar section. Organ and flanged electric guitar add a prog feel to the song until at 2:51 several heavy electric guitar chords present an interesting jazz guitar solo. At 3:42 everything shifts again to a more complex chord sequence and tempo to support a decent 75 second organ solo, and then a minute of echoed- and synth emulated-guitar solo. At 6:18 we get another shift into some bluesy URIAH HEEP sounds before a shift back into the vocal section, this time supported by heavier electrified instruments. A PROCUL HARUM-like organ section appears in the ninth minute. The ARP synth finishes leading the way of this anthemic song for its last 90 seconds. Definitely the band's most complex and mature composition (on this album) but I'm not quite sure what it was intended to accomplish. (8/10)

11. "Il rumore dell'aria" (2:58) presents itself as a soundtrack support to a spoken narration. It is eery and perhaps even scary in an Edgar Allan Poe kind of way. Ties into the album's opening very effectively. (9/10)

A very pleasant listening experience that suffers a bit, however, from some lackluster vocals and rather simple song structures and instrumental performances. Also, the band seems to rely more on the use of a wide variety of sounds and emotion rather than very many impressive or virtuosic soli--which is okay--Pink Floyd got away with it, right?

Without a doubt L'enigma della vita is a solid album of high quality progressive rock music. Definitely a four star record. Solid four stars.
Bernard Dugue @ AgoraVox - LINK
Le rock progressif fait carrément partie de la culture italienne et devrait figurer dans les spécialités reconnues dans le patrimoine immatériel de l'Unesco, au même titre que la gastronomie française ou le mugam azéri. Il faut dire que pour cuisiner les sonorités, les Italiens sont les meilleurs. Les années 2010 ont été riches avec des dizaines d'albums produits et des nouvelles formations complétant les anciennes, issues des années 1990 et 2000, sans oublier quelques vétérans qui sévissent encore dans les studios et sur la scène.

Le groupe Logos fait partie de ces formations intermédiaires. Il s'est constitué en 1996 à Vérone avec trois musiciens dont deux figurent dans la line-up actuelle, celle qui vient de sortir en 2014 un troisième album longtemps espéré par les fans. Le claviériste Luca Zerman et le bassiste et percussionniste Fabio Gaspari ont été rejoints par un second claviériste, Claudio Antolini puis le guitariste Maoli Massimo, pour former un quatuor efficace dans l'exécution d'une musique marquée par un symphonisme appuyé, avec les deux claviéristes aux keys, comme c'était le cas du légendaire Banco. Piano, orgue, synthétiseur et mellotron sont de la partie, largement employés sur les onze plages musicales offertes dans ce CD intitulé « L'énigma della vita » et qui s'étend sur 75 minutes, avec la plupart des morceaux étirés sur 7 à 12 minutes, ce qui est un format convenable pour toute musique qui a des prétentions progressives et se veut à l'écart des normes de la pop rock formatée pour les médias de masse.

A l'écoute, l'oreille est séduite et surprise par le style assez éloigné des effluves baroques produites en Italie par les acteurs du progressif. On se situe plutôt dans un registre néoprog avec des ambiances planantes et atmosphériques. Une facture d'ensemble qui ressemble à ce que peut offrir Pendragon mais avec des fioritures très personnelles et des parties vocales en italien ce qui donne une teinte méridionale. Pour situer Logos, vous n'avez qu'à imaginer ce que donnerait le Pink Floyd de « Wish you where here » s'il s'amusait à faire du progressif italien. Le résultat est très agréable à entendre, avec des claviers utilisés pour créer des ambiances et des effluves comme on peut en trouver dans le space rock. On reste néanmoins proche du prog avec la guitare qui se fait mélodique et des compositions parfois teintées façon jazzy ou folk, évoquant des formations comme Gentle Giant ou même Goblin, comme c'est le cas dans le troisième morceau assez enjoué, fluide autant que saccadé, et chaleureux comme la péninsule. Le quatrième morceau est assez étrange, mariant un style néo-prog et des instruments vintage ce qui rend l'ensemble plutôt intemporel, comme une superposition de styles et d'époques récentes ayant marqué la musique rock. Un morceau assez envolé du reste.

La cinquième pièce musicale tranche avec les précédents morceaux, offrant des saccades marquées par un esprit free rock avec des envolées presque crimsoniennes. Parfois, cette exécution très rock contemporain rappelle le Orme des débuts ou même les fausses improvisations qu'on trouve dans les formations issues de l'école de Canterbury. Ce cinquième morceau est une réussite avec cette fois la guitare qui s'étire et se veut bien plus free que mélodique. Et toujours en arrière fond cette toile sonore faite de nappes de clavier subtilement placées comme si elles voulaient colorier les figures découpées par la guitare et les jeux de rythmique. Le sixième morceau est plus conventionnel, bien exécuté, propre comme du néo prog des années 90. La septième pièce musicale s'étire sur presque 12 minutes et s'avère des plus agréables à écouter avec une succession d'ambiances musicales assez planantes pour ne pas dire floydiennes. Ensuite, ça déroule, toujours avec cette fausse légèreté qui masque toutes les subtilités de ces exécutions richement ciselées avec des ruptures et des séquences inattendues conférant à chaque écoute un plaisir renouvelé. Et ce style faussement facile qui est en fait, relativement déstructuré, ce qui montre bien la facture progressive de cet album qui éclaire une année 2014 déjà bien fournie en productions de qualité, sans aller jusqu'au grand cru que fut l'année précédente.

Logos séduira les amateurs d'ambiances néo-progressives au risque de décevoir les mélomanes obtus rompus au prog italien plus alambiqué et baroque. L'énigma della vita est un excellent disque qui saura agrémenter les longues soirées d'automne au coin du feu. Un CD enregistré entre 2006 et 2012 par Luca Zerman, édité sur le petit label Andromeda Relix et distribué par Lizard Records.
Enrico Ramunni @ Rockerilla #409 settembre 2014
Saper attendere è a volte il più banale dei segreti: Luca Zerman e i suoi Logos, gruppo veronese con vent'anni di carriera alle spalle, hanno lavorato per circa sei anni al loro terzo album (il secondo, Asrava, data peraltro al lontano 2001). La mancanza di fretta ha portato questo affascinante quartetto con due tastiere nella frontline a superare ogni aspettativa, confezionando il più bel disco di rock progressivo classico italiano da diverse stagioni a questa parte. Le influenze del Banco, delle Orme, degli Eloy sono sintetizzate in una miscela sonora personale e cangiante, espressa lungo un concept dalle tematiche esistenziali, dove non sono i testi l'elemneto decisivo della narrazione. Le rigigliose melodie romantiche che si scatenano a partire da "Venivo da un lungo sonno" colorandosi di tinte torride, molto seventies con la successiva "In Fuga" chiariscono fin da subito che sono le parti strumentali ad assumere il ruolo predominante, con le parole che servono quasi da segnalibro per orientarsi nel rigoglioso sottobosco armonico. La sezione centrale è più chiatrristica e dissonante, con l'ottima "N.A.S." che richiama i Genesis "down on Broadway" prima della sequenza spacey culminante nella trascinante frescura di "Pioggia in campagna" e nell'onirica recitazione su fondale elettronico de "Il rumore dell'aria". E non sono che le tappe essenziali di una opera maestosamente fuori dal tempo.
Salvatore Mazzarella @ GiornaleMetal.com - LINK
Se decidi di suonare seriamente un genere come il prog, necessariamente devi conoscere bene la musica così come devi essere tecnicamente preparato sullo strumento cui metti le mani. E prima o poi suonare quella degli altri comincia a starti stretto. Ed è cosi che i veronesi Logos, nati nel 1996 come cover band principalmente di Banco Del MS e de Le Orme, hanno rilasciato i primi due album (nel 1998 e nel 2001) con buoni riscontri da parte della critica. Poi la vita fa il suo corso, la gente va e viene, i cambi di formazione sono inevitabili ed il tempo passa… Fino a quando Luca Zerman (tastiere e voce solista), Fabio Gaspari (basso ed in questo disco anche batteria) e Massimo Maoli (chitarre) con Claudio Antolini (tastiere) ritrovano una certa stabilità e nel corso degli ultima anni registrano il prezioso materiale che è finito in questo L'Enigma Della Vita. Sicuramente prendendo le mosse dai grandi del prog, soprattutto Orme (si ascoltino le partiture delle tastiere) e Genesis (l'atmosfera in generale), i nostri ne rielaborano la storia in modo del tutto particolare e si fanno ascoltare davvero piacevolmente, senza alcuna leziosità, grazie alla scioltezza compositiva ed esecutiva delle proprie composizioni. Belle le parti di chitarra in Venivo Da Un Lungo Sonno, notevole il puro prog di In Fuga, punte hard nella title track, incantevoli le melodie de In Principio… Ovunque suggestiva la voce di Luca che ricorda timbricamente quella del "Francone" Mussida nazionale… Ah!!! Fatemi aggiungere che la registrazione così come la dinamica del sound più in generale sono davvero ottimali. Bè, vi assicuro che ultimamente, paradossalmente, circola molta roba registrata male, con dinamica da elettroencefalogramma piatto… Complimenti davvero ai Logos per questo lavoro e ad Andromeda Relix per l'ennesimo centro.

Voto: 8,5/10
Menswear @ ProgArchives.com- LINK
I am always happy to discover new talents and again there is lots to chew when you dip into the Italian scene of progressive rock. The 70's gave us plenty (underline plenty) of acts that made an inprint of the concrete of art rock. Even now, the scene is alive and well with contenders that clearly ate their vegetables and did their push-ups: Logos.

Logos is a band with a certain experience as a Le Orme tribute group; and it shows. It's always good credentials when you gave attention to one of the best bands in the buisness, and Logos is clearly showing us that they're not small potatoes. They are not afraid to pack their opus with long songs that take their time to bring you where they want: the park on the cover. By the way, I immediately liked the art cover, leaving place to your imagination: what is the answer to life? Is it beyond those iron gates?

The songs will not leave you on your appetite, the keys solos are delicious (In Fuga and Completamente) and the guitar work is reminding me of a harder Hackett and sometimes Latimer. Long instrumental passages are always welcome, building up tension and showering vivid images in your mind. I love the modern approach of the title song that makes a change of pace and the simpler approach of In Principo that brought to me theatrical scenarios of foreign planets with strange fauna.

Overall, it's a well sang record with no vocal overboards. And frankly, I like it that way since the RPI genre suffered of over-the-top sentimentality. It's a good balance of old and new that will not be overshadowed by La Maschera di Cera or Il Tempio delle Clessidre.

A BIG round of applause to the band giving us listeners an obviously great album and painted us a dark and hauting canvas that is perfect for these autumn days!
Jerry Lucky @ JerryLucky.com- LINK
LogoS started life as a Progressive Rock cover band, performing the music of classic Italian symphonic prog bands such as Banco and Le Orme. At the same time, they also started working on original material and managed to produce their first album in 1999 before the struggles began. Personnel changes and challenges finding places to play all made for a tumultuous period and it wasn't until 2010 they released their second disc and here, now in 2014 their third, L'enigma della vita. This quartet is made up of Fabio Gaspari (guitars, bass, vocals), Luca Zerman (keyboards, Hammond, lead vocals), Claudio Antolini (piano, keyboards) and Alessandro Perbelini ( drums). It's a classic line-up that creates some classic Italian symphonic Progressive Rock.

Made up of eleven tracks,L'enigma della vita features everything we've come to love about Italian prog. Logos' musical style runs more in line with Spock's Beard but infuses their own vibe in subtle ways. After the dramatic and powerful synthesizer opener "Antifonia" [2:03] we segue directly into "Venivo da un lungo sonno" [9:08] that is absolutely magical, deftly trading off one melodic line after another hinting at Pink Floyd in spots and Spock's Beard at other times. Track three, starts off softer with simulated flutes before the growl of the Hammond organ lifts the piece into a wonderfully melodic riff. Then suddenly things go hesitant and tentative with a chunky guitar riff and vocals. The track "In Fuga" [5:41] manages to deliver a load of musical change-ups all with a distinct classical feel. InterestinglyLogoS seem to love longer songs which is almost unusual for Italian prog and here seven of the eleven compositions clock in at over seven minutes; the longest being 11:25. Smooth transitions deliver grand and panoramic musical flourishes one moment and soft and delicate interludes the next. All of this is set against a typically quirky prog-rock foundation and a healthy dose of Mellotron sounds as well.

I for one am glad these guys weathered the difficult years to get to the point where they could give us this disc. Their music should have instant appeal to lovers of both symphonic prog or the classic Italian bands. L'enigma della vita has everything we've come to expect from the genre and the band manages to infuse their music with many of their own unique classical influences. It's an absolutely amazing set of tunes. It's also a very satisfying listen and it's for those reasons and more that I'm highly recommending you check out LogoS.
Mauro Pini @ Aurora Lunare
Logos - L'enigma Della Vita (2014) Cuore, anima, idee, ispirazione, proprio nulla è fuori posto, voce (quanto basta, ben messa nel contesto musicale, mai invasiva) compresa (raro evento). Sonorità calde, ottima anche l'incisione e la miscelazione dei suoni, vintage si (per chi apprezza le tastiere come chi scrive va a nozze, senza rischio di saturazione, cosa assai frequente in questi casi ma non nei Logos) ma mai passatiste e/ o stucchevoli, ma oprattutto ispirate ed è quel che conta e che lascia un segno indelebile. Complimenti a questi ragazzi di Verona (spero d ricordare bene) – e chi li ha valorizzati, il Nostro Loris Furlan di Lizard Record - e qua, a differenza del male endemico della vocalità nel prog italiano mi ripeto. Mannaggia, se in questa nostra italiota musicale esistesse la meritocrazia…. (curioso il batterista che suona il basso, beh se dovesse farlo anche live senza la clonazione… sarebbe un vero.. Engma della vita eh eh eh
Andrea @ ProgArchives.com - LINK
L'enigma della vita (The enigma of Life) is the third album by Logos, an Italian prog band from Verona that was formed in 1996. It was released in 2014 on the independent label Andromeda Relix with a renewed line up featuring Luca Zerman (organ, Mellotron, synthesizer, vocals), Fabio Gaspari (drums, bass), Claudio Antolini (piano, keyboards, synthesizer) and Massimo Maoli (guitar) plus some special guests as Alessandro Perbellini (drums), Simone Bistaffa (guitar), Simone Chiampan (drums) and Gianbattista Bodei (narrative vocals). A long time has passed from their previous work Asrava, from 2001, but during all these years the band never stopped and kept on working on the new compositions, refining them, recording them without pressure nor hurry, with care, determination and love. The result is an excellent concept album conceived as a long suite about the life, nature and time passing by, a mature work where the band showcase great musicianship and personality blending vintage sounds, poetry and new ideas. Well, the beautiful artwork by Luca Zerman and all the images that you can find in the booklet perfectly fit the poetical strength of the lyrics and the evocative power of the music: probably they can help you to understand the concept better than all my words... The dreamy opener "Antifona" is a short instrumental track that sets the atmosphere and fades in the following "Venivo da un lungo sonno" (I was awakening from a long sleep) where a pulsing rhythm conjures up the image of a night train running through dark shadows and ethereal, lunar landscapes. In a wagon a passenger wakes up at the noise provoked by a drought against the curtains. He emerges from a long sleep and can hear some people nearby speaking in a foreign, unknown language. It's still dark, the mysterious passenger has forgotten his destination and now he's on his way leading to nowhere, lost in the mist...

Next comes the disquieting "In fuga" (Running away) where the music and lyrics draw the image of some soldiers in the snow. They're running away from the battlefield seeking for freedom. Their life is hanging on a thin rope while around them the storm is raging... The following "Alla fine dell'ultimo capitolo" (At the end of the last chapter) is filled with tension and dark visions and depicts an empty town where a fugitive man looks for a shelter from the storm. He walks alone among ruins and crumbling walls but he can feel something in the air, the streets seem haunted by strange presences. Suddenly he sees a dim light glimmering through the dust, a pale flame of life and hope. A ghost gets close to him and tells him to keep that flame burning...

"N.A.S." is a charming instrumental track that every now and again reminds me of Le Orme and Banco del Mutuo Soccorso and makes me think of a glider taking off towards distant planets where there are rivers of lava and creatures generated by earth and electricity. It leads to the ethereal, reflective title track, "L'enigma della vita" (The enigma of life), where the music and lyrics raise questions about the origin of life: was it just the result of vibrating atoms clashing against each other at random or rather the mathematical product of a superior maker? The answer is hidden inside every man but we can't catch it, we keep on running after forces that we can't understand and we are always left in doubt, wandering in the dark and trying to learn how to overcome our ignorance, in vain...

"In principio" (In the beginning) is a long, complex track about the mystery of creation and the relativity of time. It starts softly by an acoustic guitar arpeggio, then goes through many changes in mood and rhythm taking you on a mystical trip across the universe. Stars and planets come to life and die as the men who claim to be the masters of the universe. The wisdom of a superior hand carved and shaped indescribable forms and painted the deserts with infinite colours, gave life to rivers and human beings... In the beginning there was nothing, from nothing we came and we're bound to return to nought...

"Completamente estranei" (Completely aliens) takes us back to Earth. This track starts by painting haunting notes in deep red colours and conveying a strong sense of tension... Here the music and lyrics depict a little tunnel that opens on a side-walk corner. It's the entrance to the hidden part of the city where live the homeless and the poor. The people who pass every day by that place never notice it, they can see distant stars and planets but not the unfortunate men and children in rags who live underground. For them they're nothing but transparent aliens coming from another world...

"In quale luogo si ferma il mio tempo" (Where my time stops) is a melancholic, classically inspired instrumental track for piano solo that leads to the epic "Pioggia in campagna" (Rain in the country), a complex track that depicts in a very curious way the relationship between man and nature. The lyrics draw a parallelism between a man and a feather floating in the air that the first gust of wind will sweep away. He can hear what the leaves on the trees have to tell, he can see how the nature takes his revenge on the wrecks of old cars and trucks that are collapsing in a field, covered by grass and already half-swallowed by the marshy ground... No one can save men and their work from the imperceptible fury of time! The following "Il rumore dell'aria" (The noise of air) closes the circle. It's a short track featuring narrative vocals that takes you back to the starting point, to a man emerging from a long sleep. We can't say how long he had been sleeping, maybe centuries or millennia. We don't know where he fell asleep, maybe under an oak in springtime or on the bank of a river in winter. We can't say when time stopped, all we know is that it was the noise of the air to wake him up and that perhaps he had not been sleeping more than a minute...
AtomicCrimsonRush @ ProgArchives.com - LINK
Rock Progressive Italiano is a subgenre of Prog that boasts some of the greatest Prog bands of all time. One need only mention the likes of Premiata Forneria Marconi, Le Orme or Banco del Mutuo Soccorso to understand how important this genre is in the Prog community. Now in the modern era along comes Logos with their album "L'enigma della vita". 13 years in the making, and the third album for Logos, it is the epitome of all that encompasses the very best of RPI. The foursome consists of Fabio Gaspari on guitars, bass, and vocals, Luca Zerman on keyboards, and lead vocals, Claudio Antolini on piano, and keys, and Alessandro Perbelini on drums. The music Logos generate is nothing short of astonishing, executed with virtuoso finesse and structured with innovation and invention. It is such a pleasure to listen to an album where each track stands alone, an album of diversity so infused with passion and power during its entire 75 minutes running time. It opens with ambient Pink Floyd strains and atmospheric fervour on 'Antifona, lucid and flowing with an organic soundscape. As the thunder rolls across the heavens the drums pick up and it moves into 'Venivo da un Lungo Sonno', replete with violining guitar and pastoral textures of keyboard pads. The vocals are brief and Italian in the traditional sense of homegrown RPI. The sound ignites with Hammond and mellotron vibrations, and melodic soaring guitar; generating symphonic grandeur. It is a wonderful 9 minute track that highlights the awesome dexterity of Logos, and we are only at the beginning.

'In Fuga' follows, glistening over with sumptuous mellotron and the glaze of spacey organ. The tranquil atmosphere is beautiful and then it erupts into synth bliss, and pulsating guitar picking similar to Pink Floyd's 'The Happiest Days of Our Lives' style. The vocals come in prominently until an interlude of heavy guitars keeping up with a fast keyboard phrase, sounding like Gryphon's medieval trademark sound. The shimmering organ is joined by a speedy lead guitar and it is capped off by a fractured rhythm; a great track with many layers.

'Alla Fine dell'ultimo Capitolo', fades up sounding decidedly different to previous tracks, especially the guitar phrases, processed with reverberating delay and a steady cadence on percussion. The vocals are harmonised nicely in places, and I wished I knew some Italian to pick up what the song was about. The guitar switches to a dynamic distortion, and there is a Hammond waiting round the bend to add flavour. A wah wah guitar chimes over, then staccato keyboards and some high pitched notes scream out. The song switches gears and becomes ominous in the next section. Vocals join in the quivering keys, and quick bursts of percussion and bass attacks. Another 9 minute delight shredding delightfully through my speakers.

'N.A.S.' is a fast paced excursion into explorations of urgent guitars battling an incessant organ. The guitar sound is a King Crimson sound ala 'Lark's Tongues in Aspic' and the bass is ready to back them. The swirling synths are vibrant and spaced out, and it is all driven by a thunderous drum rhythm. As an instrumental the track offers a prime example of how to maintain listener interest, with diversions into time signature switches, and a variety of instrumental sounds. It is a powerful rendition that resounds with powerhouse energy and innovation throughout its 7:43 running time.

'L'enigma della vita' is the title track and these tracks usually deliver wall to wall brilliance. The sound moves into electro-beats, startling after the previous tracks. It is a more commercial sound overall with echoing vocals, and funky bass motifs. The quavering keyboards have a crystal clear sound, over a multi layered symphonic foundation. I particularly like the guitars on this at about 4 minutes in, when the 3 chord riff dominates, merging into a lead guitar break. A saccharine fresh synth breaks through and it culminates in a choral sound with majesty and flourish.

'In Principio' runs to 11 minutes, and is a tour de force of instrumentation starting with trickling piano like rain falling down, cascading over with acoustic guitar trimmings. The vocals are melancholy, and guitars howl over adding to the sense of loss. It threatens to break out, building as we hear bird calls and then the spacey keyboards squelch through with percussion embellishments. Electric 70's organ sends out little flames and the flickering candle of shuddering synths are joined by more Italian vocals. There is a break in transmission then a major change in rhythm as a synth motif trembles, making way for jazz reflections on electric piano. A succulent guitar solo adds flavour to the banquet, and crashing cymbals and drums garnish the feast. The spacey synth sounds return to farewell this awe-inspiring track.

'Completamente Estranei' has a Twilight Zone-like synth motif, before launching into raucous guitars and organ layers. The bombastic choral voices enhance the mood, until staccato blasts of broken rhythms join the main melody. Mellotron chimes under some Floydian guitar picking, and then the vocals are heard. Again, the track delivers a wide range of styles and time changes. The band are given space to unleash their talents, including a glorious lead break and dazzling synth solos.

'In Quale Luogo si Fermo'il Mio Tempo' is a piano driven piece, in the tradition of the great composers, or more recently Keith Emerson's explorations on his side of "Works". It is a brief showcase for Antolini, the calm before the storm, being the next track.

'Pioggia in Campagna' is a 10 and a half minute symphonic prog workout, that fades up with a marching beat, reminding me of ELP. It has a soft guitar solo in one section, and then breaks out with a tempo change, gaining heaviness with guitar and keyboards in synch. There is an onslaught of twin barrelled keyboards trading off, and then the phased guitar solo adds spice. Another time change welcomes in lased edged synths, and guitar tones, prior to a new verse of lyrics. This is a glorious mini epic with inventiveness and an ever changing palette of instrumentation.

'Il Rumore dell'aria' is ushered in by dripping raindrops, and an ethereal narrative voice. The atmosphere is portentous and assumedly has deep meaning. And so ends the master work of Logos. The influences of Le Orme and Banco del Mutuo Soccorso are obvious and the band in their early days used to do covers of such RPI legends. "L'enigma della vita" is an outstanding album with music that never outstays its welcome. It deserves repeat listens and certainly sparkles with invention, vitality and dynamism. Every track drips with its own energy and all are as diverse as the next and still manage to generate a powerful unity. Logos have excelled on this album in every department and the encapsulating music resonated with my senses. A masterpiece that will gain the band recognition as they have produced one of the top ten albums of 2014!
Maarten Goossensen @ ProgWereld.org - LINK
Hoe klinkt de ultieme symfonische rock plaat? Die moet naar mijn mening toch wel aan deze eisen voldoen: sterke melodieën, langgerekte instrumentale passages met melodieuze gitaarsolo's en ronkende toetsen. O ja, graag ook veel Hammond en Mellotron. Als je deze criteria naast het hier besproken album legt, dan kun je niet anders concluderen dat dit zlverwerkje hier volledig aan voldoet.

Logos werd in 1996 opgericht door Luca Zerman, Alessandro Perbelini en Fabio Gaspari en was in eerste instantie een Le Orme coverband. Eind jaren '90 ging de band met eigen werk aan de slag en zag het gelijknamige debuutalbum het licht. Na het tweede album Asrava bleef het dertien jaar stil. En nu mogen we ons verblijden met "L'Enigma Della Vita" (het raadels van het leven).

Zoals ik in mijn inleiding al aangaf, heeft dit album alles wat je van een ultieme symfoplaat zou verwachten. Het vijftal maakt een zalige mix van Le Orme, PFM, Genesis, Camel, Yes en King Crimson en verpakt dit in elf ijzersterke nummers. De variatie is enorm. Deze ene keer klinkt het uptempo met bijna agressief toetsenspel en stuwend baswerk zoals in N.a.s. en de andere keer klinken ze meer lyrisch met warme klanken en zalig gitaarspel dat aan Andy Latimer van Camel doet denken zoals in het briljante Completamente Estranei. Het knappe is dat elke track wel iets verrassends heeft. Soms is dat een geniale tempowisseling waarbij je mondhoeken breed omhoog gaan, de andere keer is het een enorm uitgesponnen instrumentale passage waarbij je amper stil kunt blijven zitten of een moment van rust en ingetogenheid. Dit laatste is mooi te horen in het klassiek aanvoelende In Quale Luogo Si Fermò Il Mio Tempo.

Zanger Luca Zerman heeft een prettig stemgeluid en het is bijzonder fijn dat ze in hun moerstaal zingen. Daarbij is het zeker geen zanggedomineerd album, sterker nog, de stukken waarop gezongen wordt zijn ver in de minderheid. Ook productioneel is dit album geweldig. Alles komt bijzonder goed uit de verf en de plaat klinkt als een klok.

Enig nadeel is wellicht de lange speelduur. Ruim 76 minuten is best een zit. Mocht je dit vinden, luister het album dan op shuffle, want ook de laatste tracks zijn geweldig en zo zul je telkens weer verrast worden. Want nogmaals, dit klinkt verdacht veel als de ultieme symfoplaat. Mocht iemand je vragen wat symfonische rock nu precies is, dan kun je voortaan hier het een en ander van laten horen.
octopus-4 @ ProgArchives.com - LINK
I have to confess that unlike other reviews, in which I'm used to try interpreting the messages more or less hidden in an album, this time I've been helped by a band member. Catching the meaning behind the tracks was not easy even for an Italian speaking. The band has released only 3 albums in about 20 years of activity and this one has been planned for more than ten. It's not a surprise then, that the arrangements are almost perfect, the tracks are quite complex and the album flows seamlessly from one moment to another. The genre, if this word means anything, is classic RPI, but I can hear, or think to hear, influences other than Le Orme, Genesis and Yes.

Now the concept: the album's title means "the enigma of life", and is a sort of travel from the Genesis (the biblic one, not the band) or the birth to the end of times or death, with the eternal question about "is there anything after?"

The first impact is Floydian. The keyboards layer and the guitar of "Antifona" reminded me to the intro of the last two Pink Floyd albums (excluding the new one which I haven't listened to yet). This impression ends suddenly when bass and drums enter slightly in 5/4, with a mood that more than Genesis is set to the best Camel. "Antifona" derives from Greek and could be literally translated as "voice from the front" which was typical in Gregorian choirs. The word was used to indicate the was a Psalm is spelled.

"Venivo da un Lungo Sonno" is what made me think to Camel. Of course I'm speaking of impressions only. The guitar sounds more like Hackett than like Latimer, but it's a very good classic prog song. About 4 minutes of instrumental intro, the last of which is filled by a slow guitar harping which introduces the main theme of the song. I have read somebody thinking that Zerman's vocals are the album's weakness. I disagree. Zerman is ok. The weakness is in the lyrics metric, but this is common to the Italian Prog. Pierrot Lunaire, Maxophone, even PFM have sometimes fought against the metrics to make their lyrics fit in the music. It can happen when the meaning of what you are writing is too important. Said so, "coming from a long sleep" represents the Birth, both intended as one's birth and the birth of Life or the Creation. The lyrics are the introduction to the following song. Waking up is not only coming to life. The instrumental coda is excellently driven bu the lead guitar.

"In Fuga" (Escaping) is the song which more impressed me at the first listen. The vintage sound of the keys, the mellotron and the lyrics inspired to a book that I've read many years ago about the Italian campaign in Russia during the II World War. It's highly dramatic and the dialogue between keys and guitar in the instrumental parts is at the level of the best Caravan (I mean Winter Wine or 9 Feet Underground). Italian or not it's great progressive rock.

"Alla Fine Dell'Ultimo Capitolo" (At the end of the Last Chapter) Is of course about Death and the moments preceding the passing away. I initially thought, following the previous song, that it could have been about Stalingrad or Hiroshima (The imagine of Men's figures impressed on a brick's wall). It's darker than the previous songs, based on minor chords with recurring accents and the high pitched guitar setting the mood in background while keys, drums and bass make the bigger part of the job. The fact that some passages bring to my mind albums like Snow Goose and Nude, from one of my favorite bands, is a plus.

"N.a.s." is the longest track. It's instrumental. I won't disclose what the meaning is. Basing on what a band member has written to me ,it's better leaving the interpretation to the listener. This is also the reason why the lyrics are not very explicit. Leaving the listener the possibility of creating his own story is one of the goodies in progressive music. Musically speaking, it's another dark track, with the bass pumping obsessively, some little dissonances in the chords, but still maintaining a melody and a symphonic (prog) structure. A track like this can justify the cost of the whole album.

The title track has probably the best lyrics of the album. Ok, if you can't read Italian, just trust me. The song is very particular. I can't relate it to anything else, maybe Steve Hackett, but it has a lot of things inside. It changes theme, signature and mood several times. The passages are everything but trivial, sometimes surprising, but without losing coherence or continuity. In this sense, the fact that the metric is almost absent is in line with the continuous changes of scale.

"In Principio" (In the beginning) starts from the Genesis to speak of "Life and Death". Mellotron and an acoustic guitar in the vein of Anthony Phillips are followed by a bluesy keyboard riff. Effectively, the instrumental parts are better than the sung ones, but it's not a singer's fault. It's that the music is so good that we could easily give up to lyrics, even when poetic as in this case.

"Completamente Estranei" (Totally Extraneous) starts with a high-pitched keybord harping, let's say in Goblin's style. It's another very good instrumental moment which lasts for three minutes until the vocals start. It's just a short interlude followed by another excellent instrumental part, full of variations. The song is about racism and "mental blindness" in general.

"In Quale Luogo Si Fermo' Il Mio Tempo" (Where Did My Time Stop?) is a piano solo with a classical mood but with some rock accents. Sad and dramatic but still very prog. It's where the influence of Le Orme appears.

"Pioggia In Campagna"(Rain in the Country) can be read with two different keys, like most of the lyrics of this album. It's about the passing of time, in the sense of a lifetime that goes with good and bad moments, but also as the passing of eages. Skeleton of cars with grass growing inside give the idea of Earth after Man. The song is divided in two well distinct moments: a proper song which is one of the most melodic moments of the album and an instrumental part which reminds me back to Camel. I must clarify that I don't consider this music derivative. Mentioning Le Orme, Camel, Genesis, is just to give the reader an idea about the kind of music that he will find in this album. It doesn't mean that the band is not original. The keyboards in the last two minutes sound not too far from Rick Wakeman's Six Wives, but it's question of sounds and instruments used, not of musical notes.

But the thing that I have liked the most is the closing track which is the darkest moment of the album. Like often happens in prog, it gives circularity to th e album. The lyrics start exactly with the same words of the first track. Like saying that the end can be a new beginning. The voice fits very well in the music. It's very atmospheric, the only bad thing is that it's too short. For my tastes the band could have fit a whole album with this track, but prog is normally not easy to sell, and sincerely hope that the band can gain at least what is needed for a new album, in less than ten years this time, possibly.

Classic RPI which doesn't have anything less than Orme, Banco or PFM. A strong concept, cryptic enough to give you the possibility of building your own story on it, and most of all a great musicianship. Another important album for the Italian prog. If you like any of the artists that I've mentioned as reference, you will surely appreciate this band, too.

A big thumb up from a usually non-RPI fan.
Richard Hawey @ Profil- LINK
Parmi les grandes et belles surprises de cette année, tout au moins parmi les formations peu connues, il y a LOGOS. Bien que ce soit déjà le troisième album de ce quatuor italien (les deux premiers datent de 1999 et 2001), « L'Enigma Della Vita » risque bel et bien d'être le premier à être découvert concrètement par les mélomanes progressifs. Peu d'entre eux, j'imagine, avaient en effet eu l'occasion de poser une oreille sur la musique de cette formation de Vérone. Le groupe a été formé en 1996 et à cet époque reprenait des pièces de Le ORME. Comme s'est souvent le cas chez plusieurs formations, le line up initiale a changé. Maintenant, le groupe est représenté par Luca ZERMAN (claviers), Fabio GASPARI (batterie), Massimo MAOLI (guitare) et Claudio ANTOLINI (claviers). Ce nouvel opus, que l'on peut considérer comme une renaissance, représente tout ce dont un fan de prog italien peut rêver : du symphonisme purement seventies, des envolées progressives psychés du meilleur effet et des parties de claviers à faire rougir certains ténors du space-rock.

Tous les amateurs de progressif le savent, il est rare qu'un album contente pleinement les attentes. Selon une expérience personnelle je me souviens bien qu'une de ces raretés avait eu cet effet, on tend l'oreille en ce disant, mais qui joue ça. Peut-être que vous vous rappelez d'AUFKLÄRUNG, et sans faire de comparaison car ce n'est pas le but, LOGOS a eu cet effet sur moi. L'entré en matière avec « Antifona » et la dernière pièce « Il rumore dell'aria » crée comme un cadre à « L'Enigma Della Vita ». L'introduction se fait par l'entremise des claviers et d'une guitare plaintive qui nous accroche les oreilles dès le début, c'est très court, mais elle s'enchaine avec « Venivo da un lungo sonno », que l'on pourrait traduire comme suit (De retour après un long sommeil), où la guitare continue son jeu. Le chant sur l'album, est en italien, il est toutefois peu présent même s'il s'écoute très bien, c'est la musique qui domine.

Imaginez un style floydien à travers des lunettes italiennes, c'est l'impression que j'ai ressenti. Les montées en flèche des guitares aux sonorités délicates prédominent ainsi, bien qu'ils soient souvent utilisés pour propulser les pièces. Les claviers sont généralement présents sous différentes sonorités; orgue, piano, mellotron et de solos de synthé, ils sont riches et surtout bien utilisés. Comme je le disais le chant est rare, mais lorsqu'il est là, il s'intègre bien dans le contexte de la musique. J'aime « L'Enigma Della Vita » de plus en plus à chaque écoute. Une de mes préférés est « Fuga » en raison de ses lignes mélodiques et de la rythmique. Les jeux respectifs des claviers et de la guitare qui alternent les solos, en font une pièce superbe. La simplicité fait aussi son effet, « Alla fine dell'ultimo capitolo » en est un exemple, sa touche à la Pink Floyd mais aussi son côté vieux progressif italien senti avec l'orgue et le solo de guitare avec wah-wah, excellent. « In Principio » en est une autre que j'adore, la guitare acoustique du début sur des touches en douces cascade qui escortent doucement la voix. Puis vient le piano électrique, qui marque le début d'un excellent départ, les lignes de guitare et de claviers s'entrelacent pour nous faire rêver, la seconde partie met en évidence la rythmique et la guitare à en frissonner, et écouter la finale, merveilleuse! « Pioggia in Campagna » en est une autre qui vous fera flotter avec toute sa panoplie de claviers et son chant passionné.

Chaque écoute supplémentaire nous révèle encore plus de moments saisissants qui vous rappellent pourquoi vous aimez les œuvres italiennes. Seul membre fondateur Luca ZERMAN a clairement eu une vision divine pour cet album, tandis que les musiciens ont livré les meilleurs résultats possibles. Le groupe nous démontre avec cet album toutes ses compétences musicales et une grande maturité. LOGOS a réussi le parfait mélange d'influences vintage dans un style moderne. Recommandé chaudement!
Alain SUCCA @ issue 91 (december 2014) of Big Bang Magazine - LINK
Le ciel est gris métallisé, la pluie ne va pas tarder à tomber. Comme s'il obéissait à plus fort que lui, le vent d'automne se déchaîne dans un bruit de gémissement et nous rappelle sa puissance destructrice. L'ombre d'un hiver précoce pèse sur nos frêles épaules. Comme un châtiment... Nous décidons de partir à la recherche d'une musique qui nous fasse oublier la couleur du ciel et la douleur de notre importance vaine. Allant de vide en vide, mais le cœur plein à ras bord d'espoir et de passion, nous tombons enfin sur un disque à la fraîcheur bienfaitrice, une musique avec un air nouveau mais qui nous semble si familière que nous l'accueillons comme un ami après une longue absence. De l'art de bien débuter un album. On y pénètre comme le voyageur imprudent s'éloigne du sentier, distrait un bref instant par une clarté lointaine et perdu celui d'après. Mais quel bonheur de se perdre ici ! Un vrombissement sur une seule note, plainte de guitare déchirante en glissando, comme un écho improbable de lamentations extraterrestres, puis une nappe harmonique sur une autre note, recouverte progressivement par un trio guitare-basse-batterie plus rapide et répétitif, laissant enfin la place à la mélodie principale avec une débauche de finesse à la guitare, un synthé emphatique en contrepoint, le tout étrangement émouvant et réjouissant à la fois, s'imposant dans notre esprit pour finir par l'attendrir tout en le dynamisant. Articulé en deux parties, ce morceau s'intitule "Antifona / Venivo Da Un Lungo Sonno" et ouvre L'Enigma Della Vita , le troisème album de Logos, un groupe italien plu- tôt obscur bien qu'existant depuis 1996. C'est le moment d'en apprendre un peu plus. Luca Zerman est le principal composi- teur. Chanteur et claviériste, principalement sur orgue Hammond et Mellotron, il est efficacement épaulé par Claudio Antolini au piano et synthétiseurs. Sur ce nouvel album, la batterie est curieusement tenue par le bassiste, Fabio Gaspari, qui fait ce qu'il peut avec un certain talent, handicapé par un mixage de l'instrument un peu trop clair et en avant. L'album a été enregistré entre 2006 et 2012 et depuis cette date, si on en croit les récents concerts de Logos, Fabio semble avoir rendu son poste à l'ancien batteur, Alessandro Perbelini, de retour après plusieurs années d'absence (on le retrouve ici sur l'un des derniers morceaux enregistrés). On ne vous en voudra pas si tout ne vous semble pas aussi limpide que souhaité. Mais le plus curieux est ailleurs : l'excellent guita- riste, qui prend une part importante à la qua- lité du disque, a depuis 2012 quitté le groupe et n'apparaît même plus sur leur site Internet. Lors des concerts de 2014, les 2 claviéristes prenaient en charge les parties de guitare. On y perdait au change. Mais l'atmosphère prégnante de L'Enigma Della Vita prévaudra sur tous ces éventuels reproches, qu'ils soient légitimes ou non. De l'importance de ne pas laisser de ventre mou. "L'Enigma Della Vita", plus dense que le reste, l'exaltant "In Quale Luogo Si Fermò Il ¨Mio Tempo" qui pourrait devenir un classique, voilà une musique qui véhicule le souvenir d'une culture hier en voie de dis- parition, aujourd'hui plus vivace que jamais, comme si un esprit d'humeur fantasque l'avait déposée là pour notre plus grand plai- sir et accessoirement pour se moquer des esprits chagrins qui l'ont à une époque pas si lointaine vouée aux gémonies. Une musique qui porte en elle tous les parfums du prog transalpin des seventies (Le Orme, PFM, Banco...), mais aussi celui des grands maitres anglais (Floyd, Crimson, Genesis) quand il était encore question d'expérience, de sensibilité, et s'en imprègne jusqu'à la métamorphose. De l'intérêt de savoir finir un album avec flamboyance. Le choix des morceaux et leur position dans l'album est en effet particulièrement judicieux, et finir par "Pioggia In Campagna" n'est pas la moins bonne des idées. Ce final qui se révèle être une profonde vague de plaisir s'élevant d'une époque lointaine nous soulève sur l'océan du temps avec des variations de lumière après lesquelles toutes les ombres de notre âme semblent différentes. Avec L'Enigma Della Vita, Logos profite du vent de l'histoire pour gonfler ses propres voiles, avec une vision personnelle du RPI, bien dans son époque, mais respectueuse d'un glorieux passé, emplissant nos mémoires de la buée des émotions réelles.
Silly Puppy @ Progarchives.com - LINK
It took LOGOS thirteen long years to create their third album L' ENIGMA DELLA VITA (The enigma of life) but it was apparently worth the wait for this is one power house of an album. The only band member to survive into the current lineup is Luca Zerman who handles the keyboards and vocal duties. The album starts out in a spaced out ambient style that makes you wonder if you've just put on a Klaus Schulze album but then after a bit the drums kick in and take us into the realms of progressive rock and has a clearly inspired feel by the space rock arena of Pink Floyd with smooth and silky guitar lines. It only takes the addition of vocals sung in Italian to instantly break the spell and make you realize that this is indeed symphonic prog very much inspired by the greats of the 70s, namely PFM, Banco and even Genesis inspired neo-prog at times. Like all great Italian prog bands, the lyrics are in their native tongue and spell out a the concept of a journey across the universe with different tracks representing being human, love, loneliness or war. The album tackles the biggest quandary of all human history that is attempting to find the meaning of life itself.

This album is a major throwback to the 70s greats and has a sound solidly rooted in that golden decade of progressive sounds. There are roaring keyboard swirls and twirls that very much remind of PFM, space bass a la Floyd, pastoral soundscapes that can bring Genesis to mind and so forth and so on but this is an album that is of the modern era as well. The production has been absolutely perfected and illuminates every single little sound to its fullest. There are clear modern influences as well. For example "In Principio" has a clear electronic space sound that reminds me of "Moon Safari" tracks by the French band Air. The guitars are crisp and clean and tasty solos abound with a slight progressive metal edge but never really getting too far in that direction. The interplay between the musicians is always on the highest professional level and each compliments the other always creating a most satisfying sum of the parts.

The beauty of L'ENIGMA is that LOGOS are masters of the subtleties. They excel in developing the most pleasant of melodies and expounding upon them. They especially know how to magically morph from one passage to another and never string anything together in an awkward way. There are no sudden and unwarranted transitions. Everything is strung beautifully and gracefully together so brilliant it shines like a crazy diamond. The diversity of the sounds, tempos, timings and arrangements never once let you drift off in this album's lengthy 76:03 time frame. That is an achievement in my book since many an album of this length usually begins lose steam halfway through. This album is a remarkable achievement of modern prog that marries the best aspects of the classics with the cutting edge technology that now exists. This is one of the best new albums i've heard in a while and I really hope we don't have to wait another thirteen years for the next release! Highly recommended. One of the best albums of 2014.
omphaloskepsis @ Progarchives.com - LINK
An unseen glacier calf's an iceberg. Ginormous waves of subsonic whale songs expand as Logos announces a new born, infant wet whale of a masterpiece of Italian Prog. Ominous hypnotic percussion propels the new born album thru delicate webs of a spidery plucked guitar riffs. Pompeian vocals ride over molten bass lines. Ghostly guitar riffs reminiscent of David Gilmour satiate the vampiric hunger of a sabertoothed progasaur. Namely me. Perhaps you? Oh the memories!

L'Enigma Della Vitta spews out inumerable memorable licks, opiate keyboard passages, melodies, coupled with an understated, yet a perfect fusion of modern retro Italian prog. Progarchives voters nailed it in 2014! IQ, Opeth, and Logos! Until I breathe my last breath I will remember 2014 for those three amazing albums! IQ's " The Road of Bones", Opeth's "Pale Communion, and last but not least...LogoS's "L'Enigma Della Vitta. All three albums contain song after memorable song. And that's the most retro thing about these Albums! Everything here is memorable!

I own all the major iconic Italian prog albums from the 70's. PFM, Goblin, Banco Del Mutuo Soccorso, Le Orme, Area, and Osanna, along with the usual suspects. My husband and I have a weakness for Italian prog. Many great things have already been said by the Progachive connoisseurs and collaborators about L'Enigma Della Vitta, so I'll have very little to add except that in my feminine opinion...L'Enigma Della Vitta is the greatest Italian Prog album recorded since the mid 70's. LogoS makes me want to sip red vino from crystal cups and eat black olive bread with my man and get passionate...Profondo rosso amore!

Cons- I know it's over 70 minutes long. Too much of a good thing? Get over it prog people. If you can't handle a double album... Listen to the first half, next time listen to the second half. Or play L'Enigma Della Vitta on random. Do whatever it takes. But what ever you do, by crook, nook, or cranny get yourself a copy of this album.

My only regret? Although I know this album is a progressive rock classic, I probably won't be able to add one of the 100 limited editions of L'Enigma Della Vitta on colored vinyl... It's not that the limited edition is too expensive. It's just I would have to con my husband to splurge for a gramophone. "Record player is the layman's term for Gramophone." Ha ha...

5 shiny stars! An Essential masterpiece to any progressive rock collection
Martin Burns @ dprp.net - LINK
After a 13-year gap, Logos return with their frankly terrific new album, L'enigma della Vita (The Enigma of Life). The line-up includes two keyboard players, Luca Zerman and Claudio Antolini, along with Fabio Gaspari (drums, bass, backing vocals), Massimo Maoli (guitars), and a few other guest musicians. This is Italian progressive rock at its best, both symphonic and rocking.

This release combines the best of classic Italian prog (Le Orme, PFM) with the melodic sensibilities of Camel and Genesis. Though keyboards feature heavily in this release, unsurprising given the line-up, this is well balanced by the superb rhythm section (which plays precise and often very funky) and the hard-edged, Hackett-style guitar. In fact, the solo guitar often steals the show, which is no mean feat. It cuts over swathes of organ, mellotron, piano and synths, whenever the melodies and arrangements require.

Every time I have listened to this album, I find new things to praise. I keep waiting for the moment when I go 'Uhmm!, that doesn't quite work', but I haven't found it yet. Luca Zerman's lead vocal is also a treat. Perfectly placed in the mix, he has a dark, charismatic and caramel-rich tone. The obvious subtlety in his singing, makes me want to learn Italian, so I can appreciate those subtleties better.

I could not honestly choose a standout track. They all work so well in themselves, and thematically across the album. The attention to detail is phenomenal. Combined with the superb production, this disc repays close listening.

All the tracks have killer moments, be it the guitar solo in In Principio; the King Crimson-like maelstrom of N.A.S.; the medieval, madrigal-like melody of In Fuga; the piano interlude of In Quale Luogo si Fermò Il mio Tempo, or the keyboard fireworks of Pioggia in Campagna. The tracks work in an organic way; full of grandeur, mixing light and shade, moving from the pastoral to the powerful and back again.

Now we can all play the '...well that bit reminds me of...' to its pointless and reductive conclusion. However, this album mixes a mature love of classic prog, with up-to-date influences and production. It reminds me in that respect of Big Big Train's English Electric: Full Power. In both albums, the love of the prog classics just shines through, without being at all derivative. Had I heard this sooner, this would have been in my top 3 of 2014!

Logos have produced an album that is packed with grandiose, loveable, warmly energetic, deep and beautiful, time-honoured and matchless progressive music.
---
Altro
ProgressiveRockBR.com - Miglior album del mese (giugno 2014)
- LINK
---