Dutch progressive rock page – dprp.net pubblica una bellissima recensione del nostro ultimo disco 'Sadako e le mille gru di carta'.
I must admit that my expectations were high when I realised that after six years of absence, Italian prog band LogoS had come up with a new release called Sadako E Le Mille Gru Di Carta (Sadako And The Thousand Paper Cranes).
Not only had the predecessor, L'Enigma Della Vita from 2014 received a top-notch rating from my fellow reviewer Martin Burns, it had also been acclaimed throughout the prog rock community. Personally, I consider it as one of the best Italian progressive rock albums ever. Have my expectations been fulfilled? Let me try to answer that question by starting with a bit of history.
LogoS were formed in Verona in 1996 by Luca Zerman (keyboards, lead vocals), Alessandro Perbellini (drums), and Fabio Gaspari (guitar, bass) and started as a cover band of Le Orme. A couple of years later they were joined by Massimo Maoli (lead guitar), and recorded two self-produced albums, Logos in 1999 and Asrava in 2001.
Thereafter, the band underwent a few changes in line-up. Notably, Massimo Maioli left in 2010, but this departure did not prevent him from reappearing on LogoS' third release, L'Enigma Della Vita. Its realisation took place without founding member Alessandro Perbellini, the role of drummer having been assumed by bass player Fabio Gaspari, and with a second keyboarder, Claudio Antolini.
Another six years later, Sadako E Le Mille Gru Di Carta sees the light of day with the return of Perbellini, but without Massimo Maioli, who appears on guitar a guest musician on the title track only, and Fabio Gaspari switching back to bass. To cut a long story short, LogoS, on this release, consists of two keyboard players, but does not have a fully-fledged guitarist (the additional role of which is taken over by bassist Fabio Gaspari). With this line-up, there is no necessity for speculation with respect to what LogoS' music might sound like.
Sadako E Le Mille Gru Di Carta is a concept album centering around the fate that the Japanese city of Hiroshima suffered with the dropping of the atomic bomb (coincidentally, I started writing this review on August 6, which marked its 75th anniversary). The title track is based on the story of Sadako Sasaki, a Japanese girl who survived the disaster being two years old. At the age of 12, she was diagnosed with leukaemia, a disease lots of survivors were affected by. In hospital she was told a legend, according to which anyone being able to fold a thousand origami paper cranes, would have one wish fulfilled. Sadako died a few months later after having folded 644 cranes, the remaining ones are said to have been completed by relatives and friends. Sadako's heroic battle against her disease was the subject of many narratives, making her Japan's best known Hibakusha (survivor of the Hiroshima and Nagasaki atomic disasters) and establishing origami paper cranes as a symbol of the international peace movement and the resistance against nuclear war.
It is at touching story, musically translated in a perfect way, as are the additional topics throughout the release.
Defining LotoS' musical style is a fairly straightforward task, as it is characterised by two factors. It is pure, unadulterated RPI, and it is keyboard-driven. The song structures and harmonies are symphonic and bear many elements of classical music. I would not go as far as stating that they are as classical musically-oriented as Ekseption and Trace, but influences from classical music are obvious on many occasions.
Besides Le Orme, LogoS mention Banco, PFM, Genesis, ELP, and King Crimson as their main sources of inspiration. Given the sometimes melancholic harmonies and the lyrical melodies, I tend to supplement this list with some of the keyboard-led Scandinavian bands such as Brighteye Brison and Magic Pie.
Speaking about keyboards; hardly have I ever come across a release where keyboards play such a prominent role, being responsible for both lead and background instrumentation. It reminds of what ex-GDR band Stern Combo Meissen did with three (!) keyboard players in their early work, and also of the keyboard-oriented music of Little Tragedies, Triumvirat and La Torre Dell' Alchimista.
Despite guitars almost not being present, especially not as soloing instruments, one does not feel overwhelmed by the keyboards. The lively and accurate rhythmic background provided by Fabio Gaspari and Alessandro Perbellini, as well as the perfect musical complementarity of the two keyboarders Luca Zerman and Claudio Antolini, provide for something that is very much a band effort rather than a solo project of/by a keyboard player. I did not regret that guitars were that under-represented, but here and there got the feeling that the band had unnecessarily deprived themselves of using the full musical spectrum, compared to what heard on their last release. However, being a keyboard aficionado, this did not trouble my overall excellent impression.
The album is full of vintage keyboard sounds (obviously) and solos, catchy melodies, hooks and choruses, breaks and tempo changes, lyrical and poetic vocals. Luca Zerman's warm voice is in Italian which is perfectly suited to convey an impression of melancholy, poetry, and solemnity. It's difficult for me to single out any of the tracks, but Zaini Di Elio is my "primus inter pares" due to its musical virtuosity, its variety, the catchy synthesizer melodies and the classical music-oriented harmonies.
Highly recommended for the fans of RPI and of keyboard-led, symphonic, melodic, accessible, perfectly played, arranged and produced music on a release that came out amidst the corona pandemic, a fact that has my full appreciation and respect.
We are barely eight months into the (prog music) year 2020 and I am prepared to commit myself: unless something totally unforeseen happens prog music-wise (or unless I change my taste, but that's unlikely to occur), I think that I have just reviewed the number one on my "most favourite albums of the year-list". I hope that this answers my question raised above.
Thomas Otten: 9
Dutch progressive rock page – dprp.net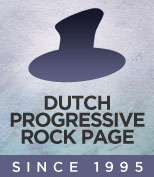 Dutch progressive rock page – dprp.net – LINK
Pagina del disco – LINK